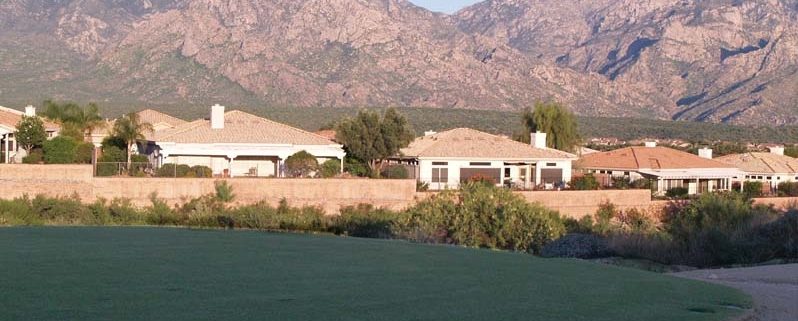 Friendly Tours in Oro Valley
Sun City Oro Valley, Oro Valley AZ invites you take a friendly tour for an up-close feel for the community. This program consists of volunteer resident ambassadors who love their community who will take you on a guided tour. You will see the golf course, tennis courts, restaurant, computer lab, art studios, facilities, neighborhoods and much more.
The ambassadors are ready to answer all your questions. Since the community is built out and all amenities are in, the only thing they will tell you is how wonderful it is to live in Sun City Oro Valley. Send me more information about this Sun City Oro Valley Tour!
> More Community Information: Sun City Oro Valley, AZ
About Sun City Oro Valley
Sun City Oro Valley is an active adult community spread out across 1,000 acres of lush Sonoran desert landscape, just NW of Tucson, AZ.
Enjoy beautiful weather and breathtaking mountain and golf course views. All this is yours when you make Sun City Oro Valley your home. Whether you want to sit back and relax or do all the things you never had time to do all is available just past your own back yard.
Topping the activities list is the award-winning 18-hole golf course, The Views Golf Club at Oro Valley. When you aren't taking in the stunning desert and mountain scenery, get active with more than 130 clubs.  Send me more information about this Sun City Oro Valley Tour!
Aquatics & Fitness Center

Keep in shape at the 12,000-square-foot Aquatics and Fitness facility, featuring 43 LifeFitness cardio and weight machines as well as free weights. Exercise classes and personal trainers work with you to meet your fitness needs.
Enjoy classes like aerobics, core training, Zumba, and more. There are also racquetball courts and a spa. Recreational and lap swimming, water aerobics, water Zumba and other water exercise classes are also available.
The popular artisan complex offers a state-of-the-art woodshop, sewing center, silversmith lab, lapidary, stain glass, clay, and pottery studios and gift shop. Racket fans get plenty of activity on courts for pickleball, tennis and racquetball. Send me more information about this Sun City Oro Valley Tour!