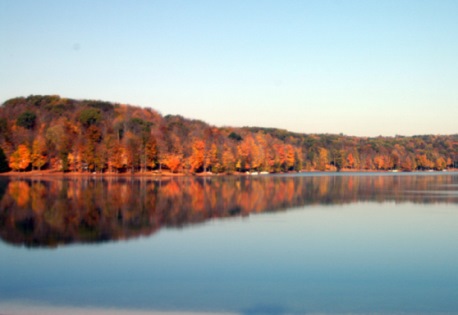 Address:  Lake Bimini Waterfront, DuBois, PA 15801
Asking: $395,000

Reduced $375,000

  3 Beds/2.5 Baths

Enjoy waterfront living, complete with your own dock, at this custom, bungalow-style home at Treasure Lake golf and water community in DuBois, PA. This Lake Bimini residence features 1,752 sf of stylish living space, water access and a gas fireplace for those cool autumn nights.
KEY FEATURES: Lake Bimini waterfront site
Red oak hardwood floors
Window walls w/ natural woodland views
Hand-crafted interior and exterior lighting
Granite countertops in kitchen and bathrooms
Covered front and back porches
Gas fireplace
> More Community Information: Treasure Lake, DuBois PA
About Treasure Lake
Treasure Lake is a gated, semi-private community covering 9,000-plus acres in the Allegheny Mountain foothills of north-central Pennsylvania. It is just two hours from Pittsburgh and an hour and 15 minutes from State College.
Admired for its natural woodland beauty and serenity, this rural enclave of 2,400 homes has excellent amenities and a full calendar of activities for adults, children and families. Send me more about this home in Treasure Lake!
Fun on Land and Water
Located just south of the Allegheny National Forest and adjacent to Pennsylvania State Game Lands, the community has an active life on the water. Three lakes with beach areas, marina and swimming pools keep residents cool all summer long.
The area provides anglers with many varieties of fish, including bass. Children under 12 and seniors over 65 enjoy heading out to the 4.5-acre Little Flipper Lake. Bass is fished in Bimini and Treasure lakes which frequently host bass fishing tournaments.
A nature trail surrounds Little Flipper, and the area is known for its fly fishing streams. Many fishing enthusiasts also take fly fishing lessons at the community or at the local Penn State Campus.
Life on land is pretty good, too. Two championship golf courses, tennis center, horse stables and two restaurants are all active hubs. The community is also unsurpassed as a haven for hiking and appreciating wildlife. Send me more about this home in Treasure Lake!