GCH Network Newsletter
Communities On the Water & the Golf Course
Vol. 16, No. 1,175 February 7, 2017 Circ. 15,000
TODAY'S HEADLINES
* Florida Homes for Sale
* Georgia Homes for Sale
* North Carolina Homes for Sale
* South Carolina Homes for Sale
* Getaways & Stay 'n' Plays – Hampton Hall Exploration

* Community News & Updates … Daniel Island New Brewery
* What's Going On At… Viniterra Pairing Event

NOW TRENDING ON GCH NETWORK
> The Winners! 21 GCH Courses Nab Golfweeks' 'Best Residential Courses' Award
> GCH 2016 Annual Index of Popular Articles, Awards & Communities
> An Historic Trend: How Golf Is Giving Way to Natural Amenities
GEORGIA HOMES FOR SALE
Osprey Cove, St. Mary's
Asking Price: $495,000
Property Address:  302 The Strand, St. Mary's GA 31558

Bedrooms:  3
Bathrooms: 3
This 2,651-sf single-story residence was originally a model home and enjoys a half-acre site and attractive landscaping. Send me more about this home in Osprey Cove!
The Landings, Skidaway Island GA
Asking Price: $795,000
Address:  6 Anderson Court, Savannah GA 31411

Bedrooms:  4
Bathrooms: 4.5
This appealing and stately Midpoint home occupies a corner cul-de-sac lot. Send me more about this home in The Landings!
FLORIDA HOMES FOR SALE
GlenLakes, Weekie Wachee
Asking Price: $169,900
Property Address:  9225 Butler Boulevard, Weeki Wachee FL 34613

Bedrooms:  3
Bathrooms: 2
This quality-built 1,915-sf Lyndhorst home has fine pond views from most rooms. Send me more about this home in GlenLakes!
NORTH CAROLINA HOMES FOR SALE
Carolina Colours, New Bern
Asking Price: $329,500
Address:  3501 Henna Place, New Bern NC 28562

Bedrooms:  3
Bathrooms: 2
This custom-built home has 2,664 sf of well-laid out living space including a living room with vaulted ceilings, a fireplace and recessed lighting. Send me more about this home in Carolina Colours!
SOUTH CAROLINA HOMES FOR SALE
Callawassie Island, Callawassie Island
Asking Price: $550,000
Property Address: 67 Winding Oak Drive, Callawassie Island SC 29909
Bedrooms:  3
Bathrooms: 3
This 3,300-sf home with custom upgrades throughout is located directly on the Tom Fazio-designed Magnolia golf course. Send me more about this home in Callawassie Island!

GETAWAYS & STAY 'n' PLAYS
Explore Hampton Hall

Hampton Hall, SC: Tennis included in getaway.

> Hampton Hall, Bluffton SC has an "Exploration Package" priced at $350 per couple, including a guided community tour.
The package includes 2 nights' accommodations at the Fairfield Inn and Suites, one round of golf for two on Hampton Hall's Signature Pete Dye Course (includes cart fees), tennis for two, lunch for two at the Hampton Hall Golf Grille plus use of all community amenities. Send me more information about Hampton Hall!
COMMUNITY NEWS AND UPDATES
Daniel Island Enjoying New Amenities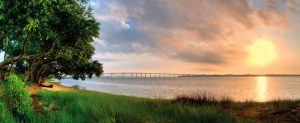 Daniel Island, SC: Charleston has new brewery, more.
> Daniel Island, Charleston SC is pleased to report that Dockery's, a new craft-beer brewpub, is currently under construction in the new Daniel Island Square building. It will be a family-friendly destination combining high-quality fare, an onsite brewery and live music, all in the heart of downtown Daniel Island.
Daniel Island Square will also be home to office space and a 9,000-square foot covered outdoor patio and community event space for art shows, small musical performances, farmers' markets and similar events. Send me more information about Daniel Island!
WHAT'S GOING ON AT…
Vinterra Pairing Event

Come to the winery for cheese, wine & chocolate.
> Viniterra, New Kent VA and its on-site New Kent Winery will hold a festive afternoon of "Wine, Cheese and Chocolate Pairings" as its Valentine's Day weekend special event for 2017.
No reservations are necessary, just drop in at the Winery on Sat., Feb. 11 any time between 10 a.m. and 6 p.m. and enjoy a pairing of three cheeses, four wines and a chocolate. Pairings are $15 per person.  Send me more information about Viniterra!