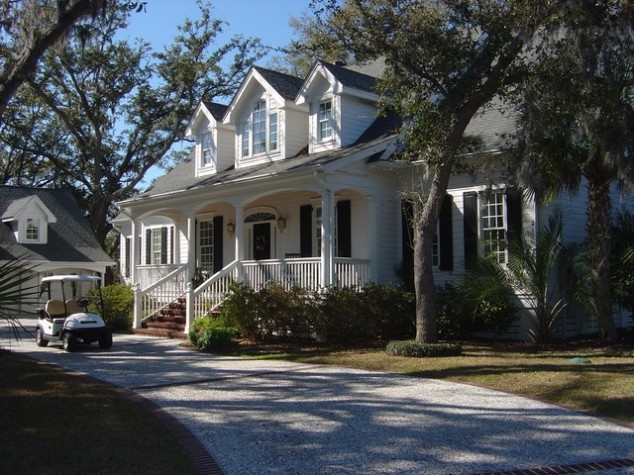 Located just outside of historic Beaufort and bounded by the Morgan River and Jenkins Creek, Dataw Island offers superlative golf, a wide range of watersports, excellent club facilities and gracious homes. Residents enjoy it all in the casual lifestyle and abundant, natural beauty found only in the Lowcountry of South Carolina.
Dataw Island seems made for Lowcountry golf. And Cotton Dike, the first golf course created here, had the perfect designer for the job, Tom Fazio. An experienced waterfront designer, Fazio took particular advantage of an unusual landscape. He coaxed the course out of the Carolina marshes by a series of dikes. The dikes were originally intended to create more land for cotton fields during the great plantation days of Dataw Island.
Waterviews & More
Almost half of Cotton Dike's 18 holes lie along the marsh and Jenkins Creek. In 2011 Cotton Dike underwent a multi-million dollar rebuild and re-grassing of its greens and reopened to much fanfare.
Morgan River, designed by Arthur Hills, is narrower than Cotton Dike and demands greater accuracy. The beauty of the course is dramatic with breaks in stands of massive oaks creating frames for waterviews of the Morgan River and the savannahs beyond. Morgan River also enjoyed a major upgrade which was completed in 2012.
A Complete Marina
For those who are called by the water, Dataw Island's full-service marina keeps you close to the sea. The privately owned deepwater slips and dry storage are just three miles from the Intracoastal Waterway. So you're only 30 minutes from the Atlantic Ocean and the Southeast's finest fishing and sailing.
From concrete floating docks with break-water protection, free cable on transient docks, a full-service repair yard, diesel discount fuel, pump-out availability, air-conditioned showers and laundry, marine surveyor and an on-call diver, the marina staff takes care of everything you need for an uninhibited excursion on the water.
Real Estate
Dataw Island has long been known for its thoughtful master plan which is sensitive to the environmental concerns of the island while creating well-designed homesites with great orientation.
Dataw Island offers single-family homes with marvelous views of the marsh, the riverfront or the fairways of either Cotton Dike or Morgan River golf course. Homes are priced from the $100,000s to $1,000,000+. Inside, many homes offer custom cabinetry, granite and other top notch amenities. For details and pricing, see the real estate section below.