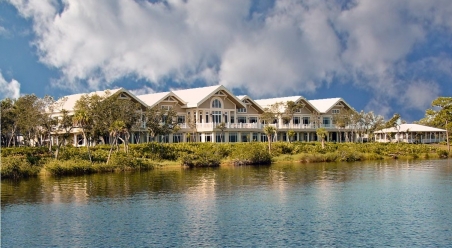 Harbour Ridge Yacht & Country Club, presented on GolfCourseHome by HR Properties, is an 885-acre, award-winning, private, gated, recreational community. Located in Palm City (adjacent to Stuart), the community is set on Florida's renowned Treasure Coast.
Featuring major facilities for golf, boating and tennis, this member-owned, equity club maintains more than 40 percent of the community in its natural state and enjoys a two-mile-long stretch along the mile-wide St. Lucie River.
36 Holes of Golf
Harbour Ridge Yacht & Country Club features two championship golf courses, created by two of America's top architects Joe Lee and Pete Dye, which provide two completely different challenges in style and design. The professional staff is available for expert instruction on a two-ended, state-of-the-art golf practice facility.
With approximately 100 single-digit, male handicappers and many excellent women players, members of Harbour Ridge Yacht & Country Club enjoy a caliber of golfing excellence that few communities can match.