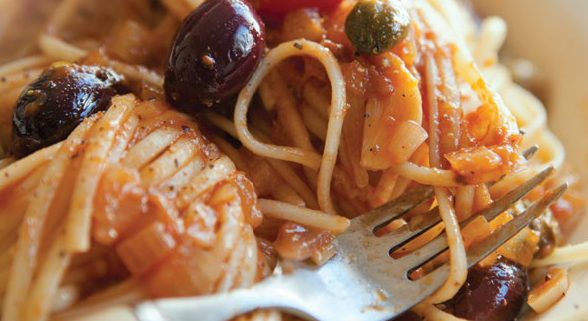 Growing up in suburban Maryland, Chef Robert Wysong enjoyed the wonders of the Chesapeake Bay. So it follows that in his role today as the Certified Executive Chef for Colleton River Club he focuses heavily on Lowcountry cuisine which includes local agriculture, local seafood and seasonal cooking.
This fall Chef Wysong's seasonal focus comes into play with his Spicy Fall Tomato Sauce, designed to take advantage of the harvest and counter cooling temperatures. The robust flavors will complement a simple pasta or French bread pizza. See the recipe below.
From Apprentice to Chef
Chef Robert Wysong's cooking career got its start at the family breakfast table which was prepared by his father every day. His father also encouraged him to travel and dine on great food.
The family influences quickly took him to his first culinary job as a chef's apprentice. He later enrolled in the prestigious Johnson & Wales University, then located in Charleston, SC.
In 1993 he graduated with an intensified enthusiasm for cooking and a certification from the American Culinary Federation.
Since then Chef Robert Wysong has continued to put his passion to work, creating dining experiences for the Pensacola Country Club, Grove Park Inn Resort & Spa, the Ritz-Carlton Naples and The Sanctuary at Kiawah Island, along with several independent restaurants prior to arriving at Colleton River.
He still considers himself a "lifelong student of hospitality and the culinary arts" and continues to develop his dishes. Send me more information about Colleton River Club.
For more information about Chef Robert Wysong's specialties or other culinary offerings, catering and special events at Colleton River, please call 843-836-4430.
Colleton River Club is located 1.5 miles from the bridge to Hilton Head Island. It is a place of great natural beauty with towering live oaks, Lowcountry marshes, tidal creeks, lakes and magnificent views of the Colleton and Chechessee Rivers as they flow into Port Royal Sound. Send me more information about Colleton River Club.
Chef Robert Wysong – Spicy Fall Tomato Sauce
Ingredients
28-oz can crushed tomatoes, preferably Italian plum style
1 tbsp. garlic–fresh, chopped or minced
2-oz can of anchovy filets, drained
4-oz can of black olives, drained and chopped
1 tbsp. capers, drained and chopped
1-2 fresh basil leaves, with stem
1/2 tsp. crushed red pepper, or to taste
1 tbsp. flat leaf parsley, washed and finely minced
1 cup dry white wine
2 tbsp. olive oil for sautéing
Salt to taste
Method
In a medium sauté pan, sweat the garlic, anchovy filets and red pepper
Cook briefly over medium heat, taking care to not brow the garlic
Add chopped olives and white wine, reduce by 1/3
Add tomatoes and establish a low simmer
Taste carefully; does it need a pinch of salt?
Once flavors combine, remove sauce from heat and add chopped parsley
Serve with your preferred pasta, or a grilled chicken breast.
Buon appetito! Send me more information about Colleton River Plantation!
Save