More than just golf- Daniel Island, SC offers an abundance of amenities.
An exciting venture in the world of tennis is coming to Daniel Island, SC, as community prepares to build a court tennis facility.
Mention of the game of tennis calls to mind images of sunny outdoor courts, fuzzy lime green balls, and names from Nadal to Williams. However, this version of tennis, while widely known and enjoyed, is merely an adaptation of the original game of court tennis. Send me more information about Daniel Island
Court tennis, or real tennis as it is known in the UK, has a rich history dating back to 450BC, where an early form was played by the ancient Egyptians. As it grew and developed, real tennis became a staple in the royal courts of France and England. In fact, Henry VIII was engaged in a game when he was informed of the beheading of his wife, Anne Boleyn. Learn more about court tennis.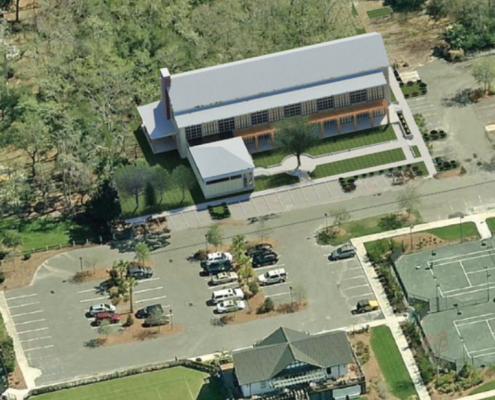 The proposed court tennis facility will be conveniently located near the existing lawn tennis courts.
Much like lawn tennis, as the more well known version of the sport is called, court tennis involves a racquet, ball, and court with a low net. However, not even these elements of similarity are exactly the same. Court tennis involves cork and fabric balls, wooden racquets, and an intricate set of rules that implement terms like "bobble" and "hazard chase."
Real tennis courts include not only the floor, but fours walls with specific openings, and a sloped shelf called the penthouse that runs along three of the walls. These specifications are important to game play, as the penthouse is the service target and points can be scored by landing the ball in various wall openings. Send me more information about Daniel Island
About 1,000 men and women worldwide play court tennis, and only 43 courts remain, spread between the United Kingdom, France, the United States, and Australia.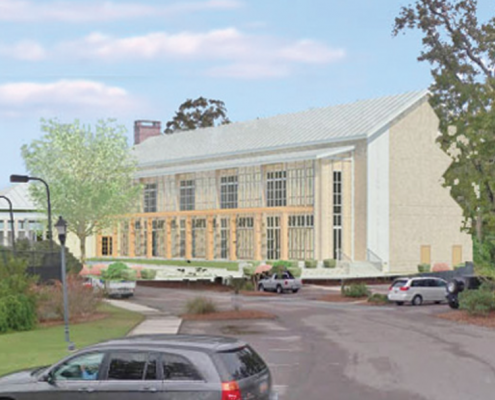 A preview of what the stately facility will look like upon completion.
Therefore, it is incredibly exciting that Daniel Island, SC is building a court tennis facility. After three years of meticulous planning, the community is ready to break ground on what will be only the third court south of the Mason Dixon.
As it stands $1.65 million of the $2 million needed to build the court has been raised. Visit the Charleston Court Tennis website to contribute, and learn more about how you can become a member of Daniel Island to get in on the action. Send me more information about Daniel Island