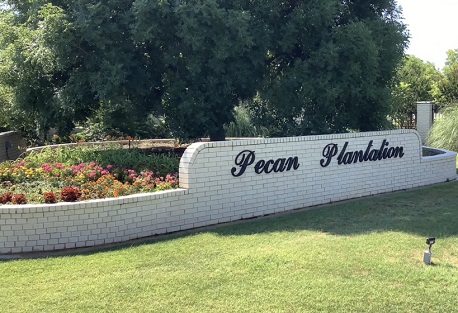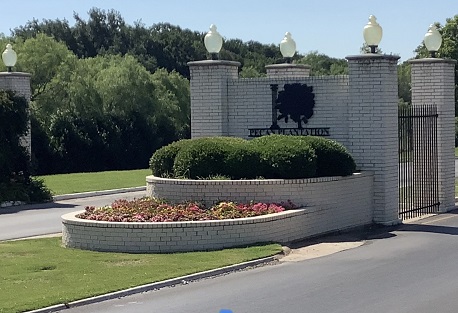 Pecan Plantation
Pecan Plantation offers Texas country living in a private, gated community with 24/7 on-site security, all just 35 miles from the vibrant Dallas/Fort Worth Metroplex. Surrounded by a loop of the Brazos River, the community answers every lifestyle need.
Here you'll enjoy first-class golf, tennis, swimming, fitness, full-service clubhouses and team-sport facilities. There are equestrian stables, river parks, lake access, airfields and an active social life.
This 4,200-acre refuge also features a campground, an 18-room Inn, three beach areas and a commercial village center with shopping, banking and other services,
Homes are well-priced, many with oversized lots and fine views of the Brazos, which is America's 11th-longest river. Send me more information about Pecan Plantation!
Two Championship Courses
The 18-hole course at Pecan Plantation Country Club features 6,830 yards of golf from the longest tees for a par of 72.
This layout is known for its scenic elevations, classic tree-lined fairways and smooth miniverde greens. Your private cart is permitted for use here in exchange for a small monthly trail fee.
The 18-hole course at the community's member-only Nutcracker Golf Club features 6,743 yards of golf for a par of 72. The Nutcracker is host to numerous member social golf events throughout the year. Membership is optional for residents. Send me more information about Pecan Plantation!
Everything from Tennis to Soccer to a Dog Park
The Pecan Plantation clubhouse features excellent dining and 18 comfortable hotel rooms. Adjacent to it is the Pecan Activity Center, offering tennis on six lighted courts and swimming in a Texas-sized pool with a diving board and lifeguards on duty.
The center also has a baseball field, soccer pitch, playground equipment, a dog park and a full-sized indoor basketball court.
Located inside the Nutcracker clubhouse, the well-equipped Nutcracker Fitness Club offers fitness-only memberships. Send me more information about Pecan Plantation!
River Parks on the Brazos River
There are three Pecan Plantation River Parks located along the Brazos River within the community's acreage.
The community's Archery Range is a spacious target range with a covered shooting area.
Pecan Plantation Stables stables provide easy access for residents and attentive year-round care for your horse.
Centrally located, The Village at Pecan Plantation offers everyday conveniences such as a grocery store, bank, pharmacy, medical offices, dry cleaning and much more. Send me more information about Pecan Plantation!
Property Owners Are Members
Upon purchase of property in Pecan Plantation, owners become members of Pecan Plantation Owner's Association and Pecan Plantation Country Club.
Property owners enjoy full use of all Pecan Plantation owned amenities, security, common area maintenance and trash collection.
The Pecan Plantation community now consists of about 3,200 residential lots. Approximately 2,500 homes have been built so far.
The developer, Orchard Development Company, and the PPOA have agreed that in the future the total number of developed lots on the original 4,200 acres will not exceed 4,500.
Pecan Plantation is home to two airports. Homesites are currently available at The Landings Airpark. Send me more information about Pecan Plantation!
Real Estate
Private community measuring 4,200 acres with about 2,500 existing homes
POA and partner Orchard Development have set a limit of 4,500 homesites

Homes & homesites offer views of the golf course, lake and marina

Single-family homes, townhomes, cottages and homesites available

Homes are priced from the $160,000s to well over $600,000
Lots range in size from under one-half acre to multiple-acre parcels
Homes vary in size from 1,200 to over 5,000 square feet

Homesites are currently available at The Landings Airpark
Featured Listing
Amenities
Private, resort community southwest of DFW Metroplex

Gated, 24/7 on-site security

17-mile stretch of the Brazos River surrounds the property

Three separate River Parks

Two championship golf courses

Two grand clubhouses, Pecan and Nutcracker

Nutcracker Clubhouse

Nutcracker Fitness Center, with fitness-only memberships available

Pecan Plantation Clubhouse

Swimming pool

Tennis center

18-room Inn

Dining venues

 

Two small airports

Pecan Plantation Airpark

The Landings Airpark

Pecan Activity Center

Baseball field

Soccer field

Dog park

Playground equipment

Swimming pool

Indoor basketball court

The Village at Pecan Plantation

Grocery store

Bank

Pharmacy

Medical offices

Dry cleaners
Area
Granbury, "Best Historic Small Town'
Voted by USA Today as the Best Historic Small Town in America, Granbury is rich in unique culture, Texas history and Southern hospitality. The area draws eager visitors to its picturesque Texas landscape and variety of small-town activities.
Lake Granbury, the Brazos River, Acton Nature Center, Fossil Rim Wildlife Center and Dinosaur Valley State Park are just some of the many local outdoor features well worth experiencing. Send me more information about Pecan Plantation!
Home to the Arts
Explore the Hood County Jail Museum or the Hood County Courthouse on historic Granbury Square. You will also find a Doll Museum with over 700 dolls from around the world. Granbury is home to everything involving the arts.
Find galleries, sculptures, well-known artists as well as make-and-take studios.
Another favorite creative pastime in Granbury is catching an uplifting Broadway-style musical at the restored 1886 Granbury Opera House, or watching a talented musician and artist perform classics on the New Granbury Live stage.
Hunting & Camping
Comanche Indians once used the 4,200 acres of land that is now the Pecan Plantation community and the Leonard Bend Pecan Orchard as hunting and camping site.
Due to the unusual configuration of the Brazos River virtually encircling this peninsula of land, the property has long been a distinctive landmark in North Central Texas. Send me more information about Pecan Plantation!
Nearest Airport
Pecan Plantation Airpark – within the community
DFW Airport – 1 hour north
Location Map
Click here to get directions