Martha's Vineyard's Watery Treasure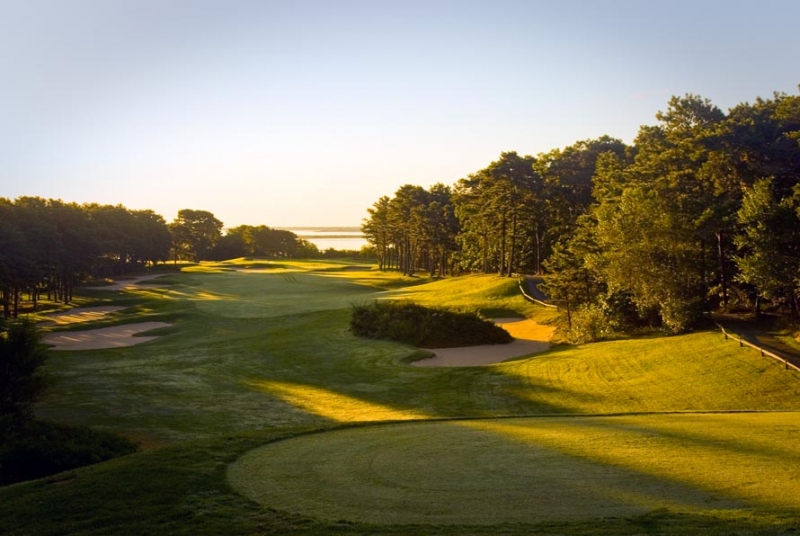 Farm Neck golf course overlooks Sengekontacket Pond.
Sengekontacket Pond is a treasured environmental and recreational area located in Oak Bluffs close by Nantucket Sound and set adjacent to Farm Neck Golf Club.
The immediate area around the golf club consists of several distinct neighborhoods, offering single-family homes and condominiums all bound together by their views of Sengekontacket Pond and Nantucket Sound beyond. Send me more information about this special Oak Bluffs area!

Paddle out to the beach from Hidden Cove's floating dock.
The neighborhoods–Waterview Farms, Hidden Cove and Sengekontacket–offer various amenities, such as access to the pond and a dock, tennis courts, swimming pool and close proximity to Farm Neck Golf Club (semi-private) and State Beach (public).
Each neighborhood has HOA fees that entitle residents to use the amenities unique to each neighborhood. Send me more information about this Martha's Vineyard treasure!
Sengekontacket Real Estate

Pond view from a recently sold Waterview Farm home.

There are no homes available currently in Sengy (island slang for the area).
The market on Martha's Vineyard has been very active since the start of the pandemic in March 2020 with sales being driven by buyers escaping urban areas, looking for remote work locations, or speeding up the buying process due to the pandemic. Keep me in the loop on new properties for sale in Sengy!
Real Estate
Waterview Farms Real Estate
Currently, there is one building lot available in Sengekontacket in Waterview Farms.
The golfer will appreciate that this lot is just a short walk from Farm Neck Golf Club, and is a comfortable ride to Oak Bluffs, Vineyard Haven and Edgartown. See more details below.
17 Old Harbor Lane, Oak Bluffs, MA

Private half-acre lot in Waterview Farms for sale.
Lot #17
.49 Acre
Sengekontacket Pond views; distant Nantucket Sound views
Features meadows and private access to Waterview Farms beach
Boat docking & storage available at the association's private beach
Assessed at $836,500
Estimated annual taxes: $6,082
Hidden Cove Real Estate
There is no real estate for sale in Hidden Cove at present. However, the spring market is coming soon and more properties will become available.

Currently Off-Market: Hidden Cove w/ 3BRs/2.5BAs, $980,000
Newly renovated Hidden Cove, end-unit condo
All new kitchen & baths
New flooring, carpeting & heat pump system (heating/cooling)
Open kitchen, dining room, living room w/ fireplace
Private deck w/ stunning ocean & pond views
Lower level w/ 2 bedrooms w/ to private patio
Ocean & pond views from every floor
Oversized 1-care garage
Asking $980,000 (off-market, will return in spring 2021)
Amenities
The neighborhoods surrounding the pond offer various amenities, such as access to the pond and a dock, tennis courts, swimming pool and close proximity to Farm Neck Golf Club (semi-private) and State Beach (public). See details for each community below.
Sengekontacket Amenities

Sengekontacket is the only community with a clubhouse.
Two tennis courts
Clubhouse on a spring fed freshwater pond
Boating/kayaking on Sengekontacket Pond
Private salt water dock w/ easy access to Vineyard Sound
Bike paths nearby
Waterview Farms Amenities

Keep your kayak handy at Waterview Farms beach.
Tennis courts
Boating/kayaking on Sengekontacket Pond
Private access to the Waterview Farms beach
Association dock, boat storage, launch area
MV Biking trails access at community entrance, easy ride to town
Hidden Cove Amenities

Play tennis on two courts at Hidden Cove.
Private swimming pool
Two tennis courts
Dock, boat launch, boat storage on Sengekontacket Pond
Boating/kayaking on Sengekontacket Pond
Bike paths nearby
Pickleball court
Walking trails, plus nearby walking trails to Pecoy Point
Abuts acres of the Felix Neck Wildlife Sanctuary
Area
About Oak Bluffs
Sengekontacket is located outside of the town of Oak Bluffs on the edge of the pond of the same name.
The town was once a suburb of Edgartown, but came into its own in the mid-19th century thanks to the establishment of the Methodist Campgrounds. Today, however, Oak Bluffs has become to the place to go for nightlife on the island.
Waterside hot spots such as Nancy's and The Sand Bar welcome fishermen and yachters from the harbor. Dreamland and The Ritz have live music. And as the primary "wet town," Oak Bluffs has plenty of bars to accommodate the life of the party.
A Rich History
Located in the center of town is the foundation of Oak Bluffs, the Methodist Campground, where people flocked to settle in tents during the religious revival of the 1800s. As the congregation grew, the tents transitioned to gingerbread cottages, each more colorful and charming than the last.
Today, you can stroll through the delightful cottages, clustered around a large, open-air Tabernacle, where there are events and live music throughout the summer.
Take a walking tour to get an inside scoop on the historic homes such as the Cottager's House Tour in early July. Or embark on a ghost tour later at night to hear the spooky secrets and age-old legends of the campground.
Come at the end of the summer in mid-August and observe the Illumination Night spectacle. Here the cottages light the night with exquisite Japanese lanterns that have been in families for generations.
Nearest Airport
On Martha's Vineyard Island
Martha's Vineyard Airport – 10 minutes
On the Mainland
Barnstable, MA, Municipal Airport
Boston, Logan International Airport

Connecting Peter Pan buses leave from Wood's Hole ferry dock
Location Map
Click here to get directions