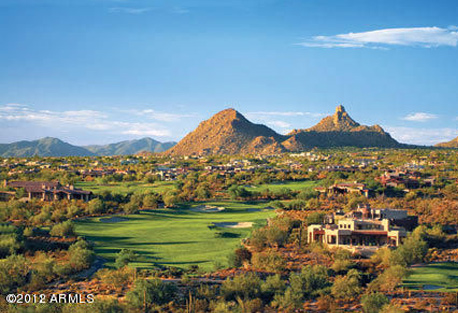 This is the second of a series on golf course architects and their designs. Watch for future posts on Arnold Palmer, Robert Trent Jones II and others.
Putting the Jack Nicklaus signature on a community's golf course immediately bestows blue chip status on the surrounding real estate.
Whether you play golf or not, when you consider buying real estate in a golf course community, the designer of the golf course can affect the price you pay. Today, no other golf course architect impacts real estate values like Jack Nicklaus.
Once the king of the golf course, the Golden Bear is now the king of golf course design and sits atop the leader board in regard to the value his signature imparts to his creations and the surrounding real estate.
Colin Hegarty, president of Golf Research Group, studies how a course architect's name and reputation affects property values in golf communities. Hegarty recently equated the homes in communities built around Nicklaus courses with "blue chip stocks."
In one five year period during the height of the golf course building boom, Nicklaus designed 75 residential golf courses. At the time, Golf Research Group put their average net value-course and real estate combined at a hefty $246 million per community.
While golf courses and their communities often have far different valuations today, the Nicklaus brand still describes the courses as of the highest quality. Running a similar calculation for other leading U.S. course designers and none of them matches up with Jack.
SOUTH CAROLINA: The Reserve at Lake Keowee, Lake Keowee
Of all golf communities with Nicklaus-designed courses, Desert Mountain in Scottsdale, AZ, has the deepest Bear tracks. It is home to no fewer than six 18-hole layouts bearing the Nicklaus signature with their openings stretched over a 15-year period. Some call it a Nicklaus Design Museum, showing the evolution of his style and beliefs.
GEORGIA: Reynolds Plantation, Greensboro, Lake Oconee
Despite his lack of formal training in course design, Nicklaus had several advantages when he started. He knew the game well and he was given bigger construction budgets than the average architect.
His courses have a fine, finished look to them–no corners are cut and it shows. In fact, the quality-control standards Nicklaus applied to his own early courses quickly became adopted industry-wide.
Early on, Nicklaus courses were discouragingly difficult, especially on shots into the greens, which were wide, but shallow–often just a few paces from front to back-which frustrated all but the most accomplished golfer.
SOUTH CAROLINA: Woodside Plantation, Aiken
With experience, designer Jack learned to accommodate the average player by building in more options and bailouts. His courses took on softer lines and avoided the sharp edges that sent impure shots careening sideways upon landing.
Today, Nicklaus retains a fondness for the split fairway, using that feature to add character and a sense of fun to the tee shot on par-5s. As more and more architects have squared off their tee boxes in a nod to the formal-landscape look of the early 20th century, Nicklaus has bucked the trend, preferring to keep his teeing grounds "free-form."
See the first article in the series:
Tom Fazio: Bringing Soul-Satisfying Play to Golf Communities