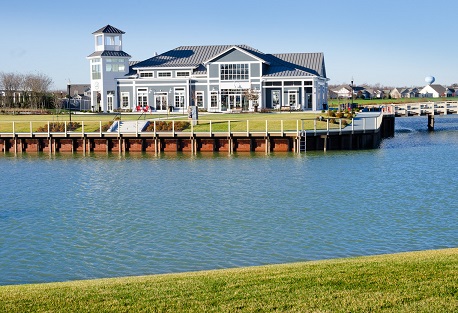 Retire Delaware: Top 10 Reasons to Retire Delaware (& Heritage Shores)
by GCH Retirement Planner Advisory Board
Delaware has long been a favorite state for many retirees. Why is it the perfect fit? It offers an ideal tax-friendly lifestyle at a location that allows you to stay closer to your family and friends in the Northeast. Plus, you won't have to give up the resort-style luxuries that you've been looking forward to.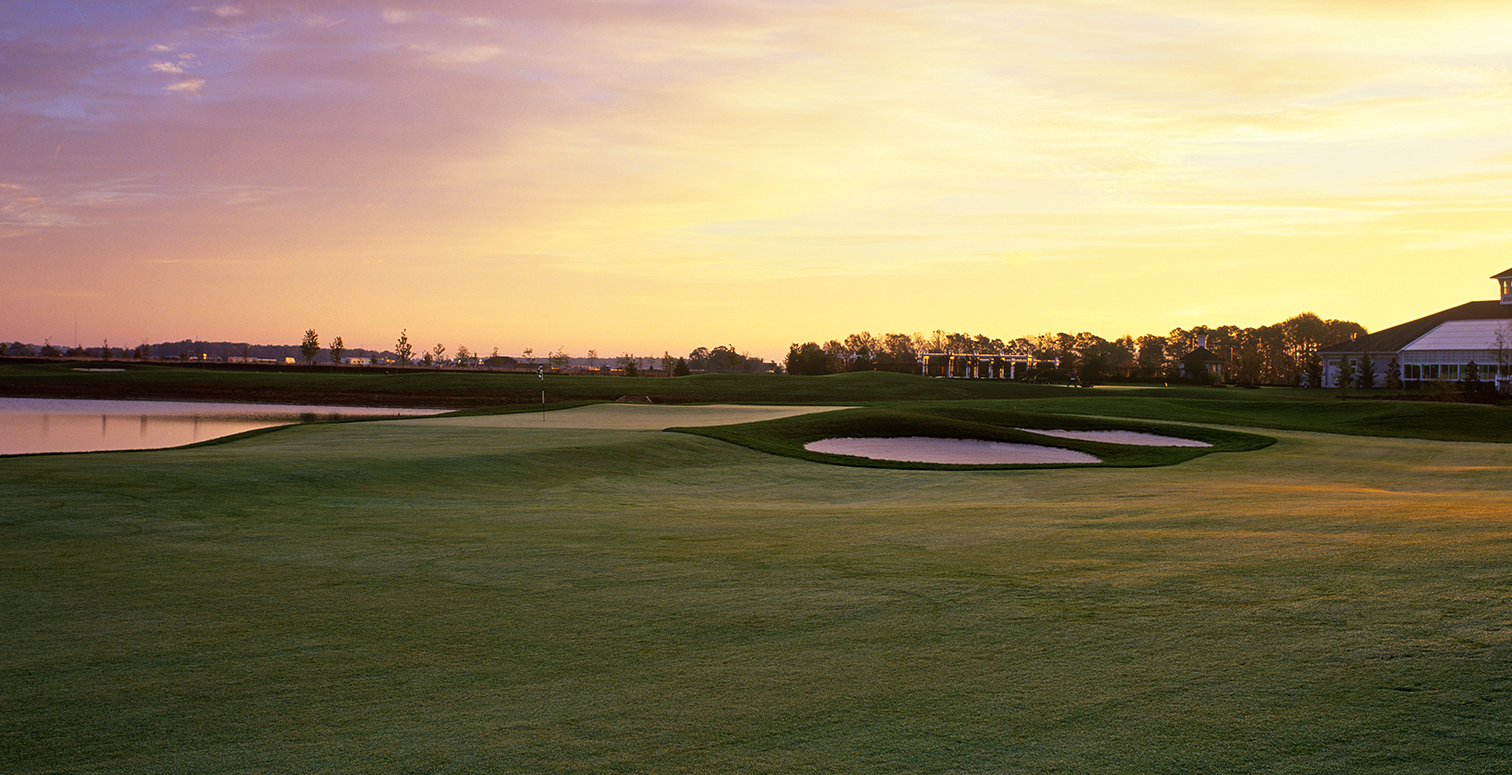 Play on a championship golf course designed by Arthur Hills.
At Heritage Shores, a master-planned 55+ community in Bridgeville, you'll enjoy an amenity-filled lifestyle complete with an on-site championship golf course. Send me more information about retiring to Delaware
Here are the top 10 reasons you should retire to Delaware and to Heritage Shores, in particular.
1. Retire Delaware: Location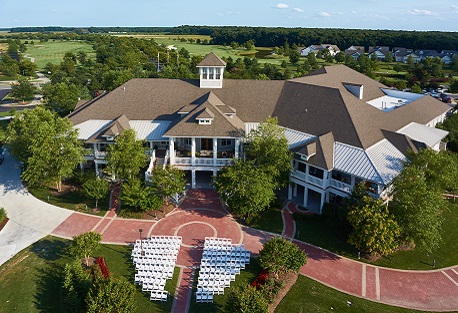 Heritage Shores is your hub for many destinations just 2 hours away.
Countless regional destinations are just a short drive from Heritage Shores. You can find top Delaware beaches under an hour away. If you're looking to drive to nearby cities, you'll be able to access Washington, D.C., Baltimore and Philadelphia in less than two hours.
2. Retire Delaware: Tax Benefits
Delaware living won't just save you money, it'll give you peace of mind. Here are just a few of the tax benefits you'll get to enjoy:
Zero state sales tax
Low, real estate taxes
Social Security benefits exempt from state income taxes
3. Outdoor Recreation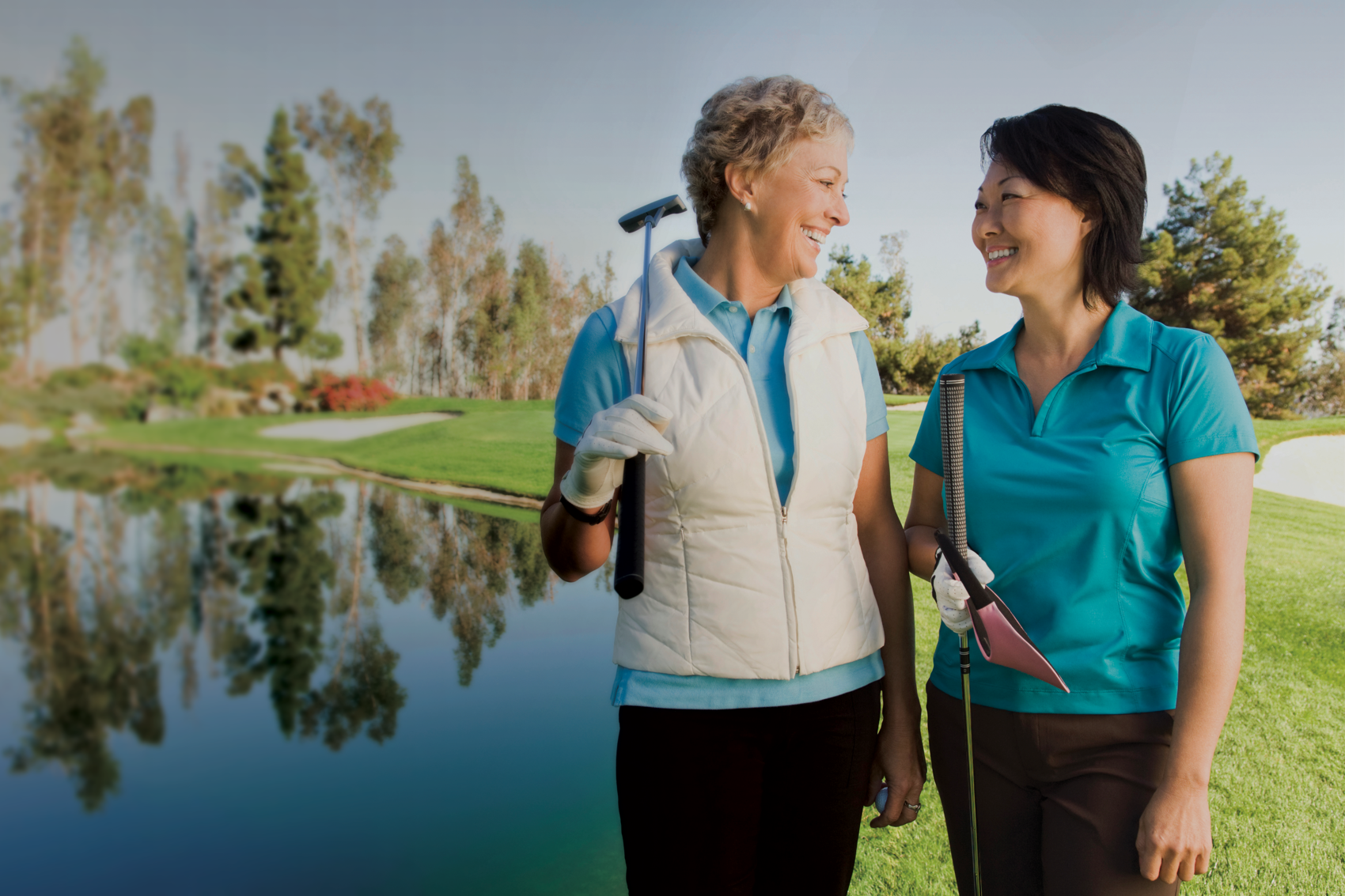 Championship golf is just the start of the activities list.
It'll truly be an active lifestyle here in Delaware. Whether you prefer relaxing by the pool or getting in a workout along the fresh air exercise circuit, outdoor living is always readily available from your doorstep.
4. Championship Golf Course
You won't have to travel far to tee up at the Arthur Hills-designed championship golf course at Heritage Shores. There are water views throughout the course and five tee options for a fresh, fun experience for any ability level.
5. Clubhouse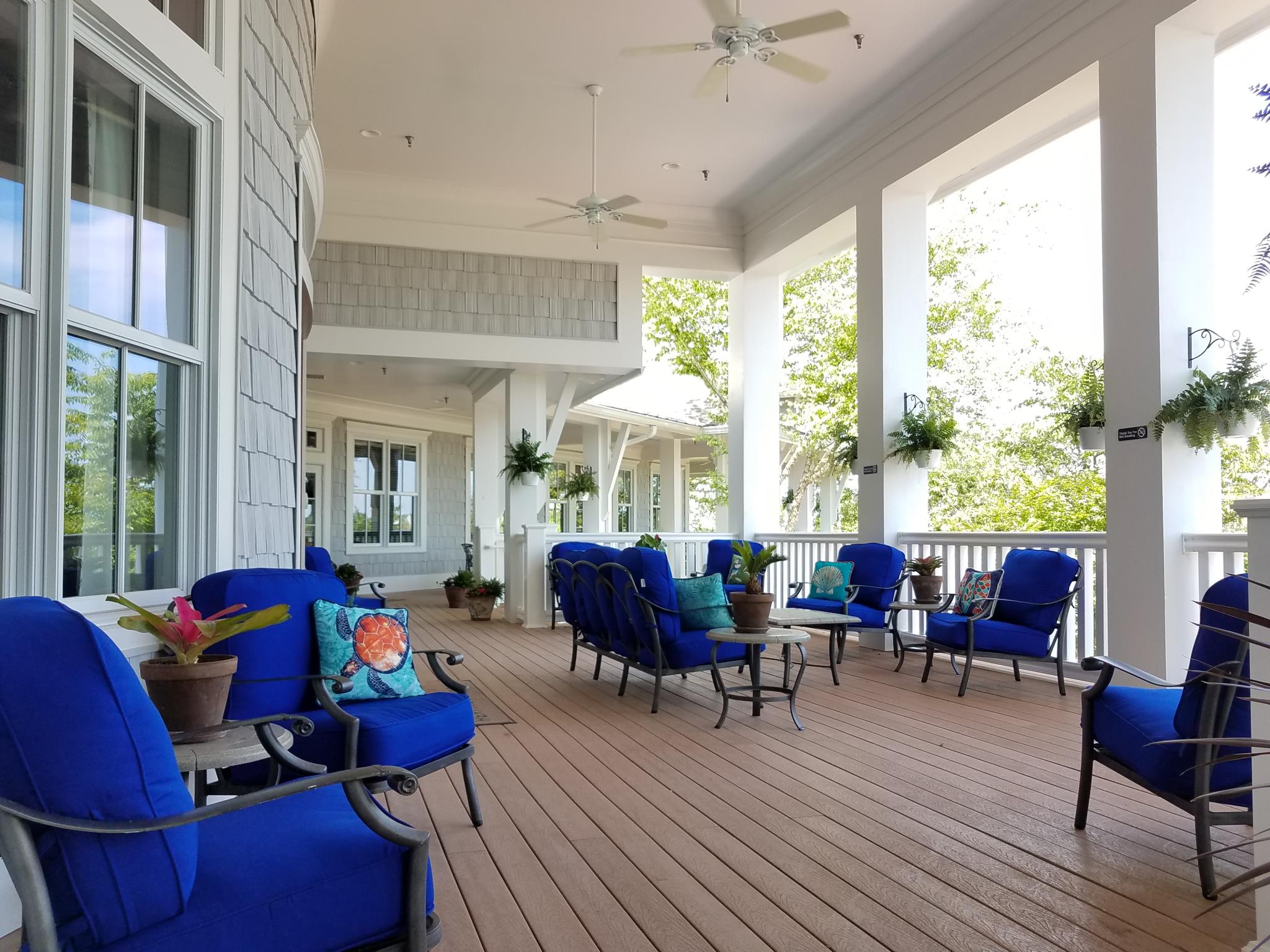 The clubhouse is a spacious and relaxing social center.
At over 28,000 square feet, the Heritage Shores clubhouse is a vital hub for the community. Come together with neighbors inside this impressive facility, where you'll find a library, computer lab, woodshop and more. Send me more information about retiring to Delaware
6. On-Site Dining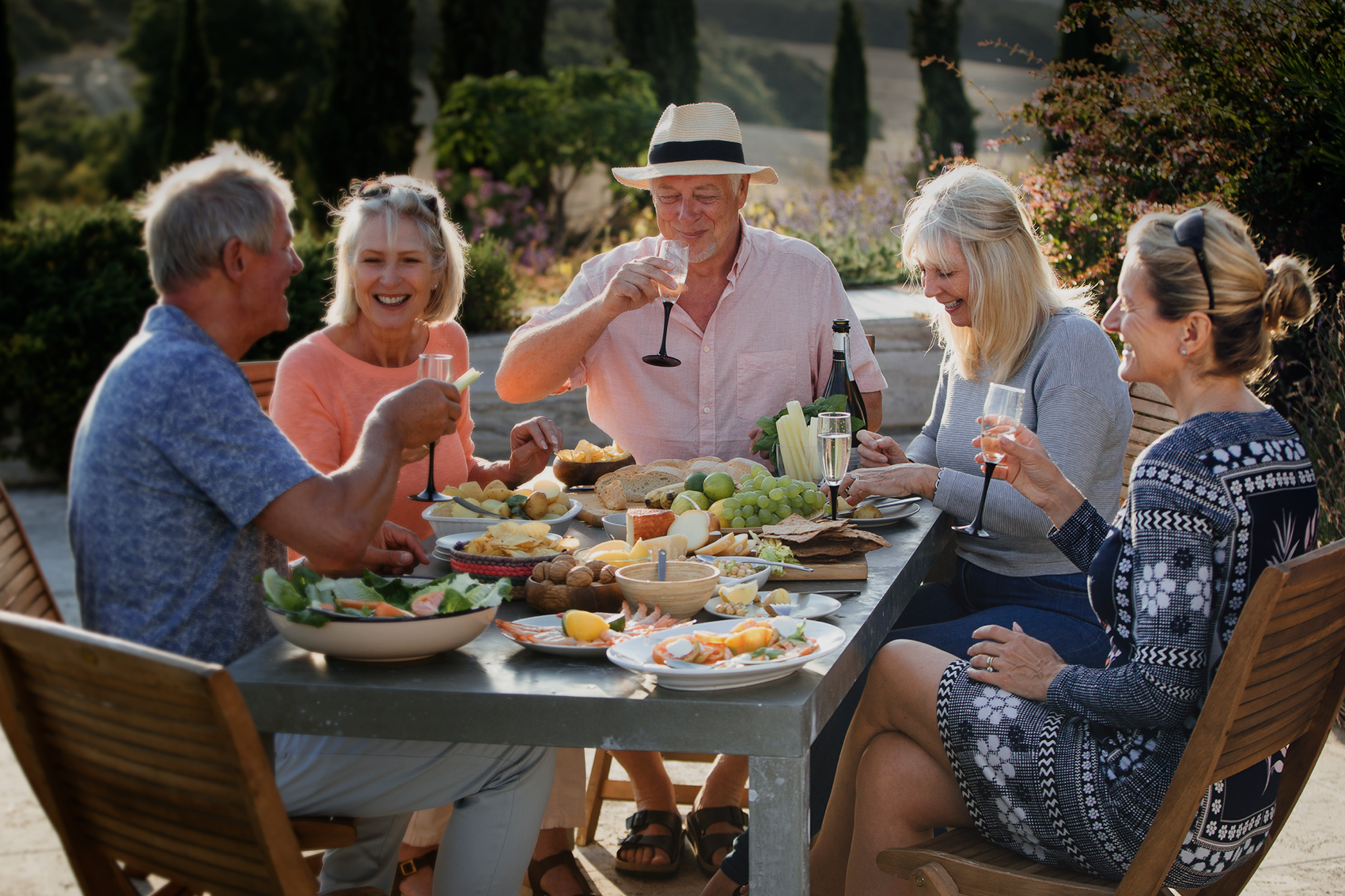 Three different dining options will keep your palate entertained.
Some days you just won't want to cook or drive to a restaurant. With three impressive dining options right here at Heritage Shores, you can enjoy delicious dishes and incredible views from the comfort of your own community.
7. Clubs for Your Passions
There's a place for everyone at Heritage Shores. Maybe you'll meet new neighbors at a social club's outing. Or find fun and lively competition with a sports and fitness club. There are also hobby-based groups and regular meetings for cards, dice and billiards clubs.
8. Full-time Activities Director & Events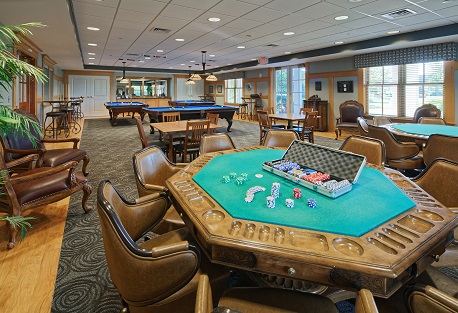 Name your club and the Activities Director will help you form it.
Your social calendar is sure to fill quickly thanks to the full-time Activities Director responsible for bringing you regularly scheduled fun in addition to seasonal opportunities.
Plus, you can always book a space if you want to host your own event—from a small get-together to a wedding with a view. Send me more information about retiring to Delaware
9. Awards
Heritage Shores is a great place to live — and it's not just the residents who say so! The community has been recognized in many publications over the years:
Voted Best Retirement Community, Metropolitan Magazine, 2019, 2018
Voted Best 55+ Active Adult Communities, 55Places.com, 2018
Voted Where to Retire Magazine's 50 Best Master-Planned Communities, 2019
10. Homes for Single-Level Living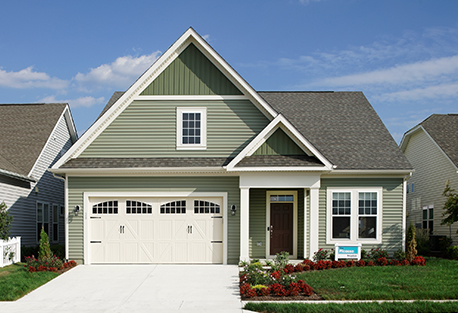 Low-maintenance homes begin in the mid-$200s.
Is main-level living a must have for you? Good news—every design at Heritage Shores offers an innovative, stylish take on single-level living and golf- and water-view homesites are available. Plus, homes start from the mid-$200's, making your new, low-maintenance lifestyle easily accessible.
Ready to learn more about life in Delaware and living at Heritage Shores? Send me more information about retiring to Delaware
Visit the Heritage Shores website.