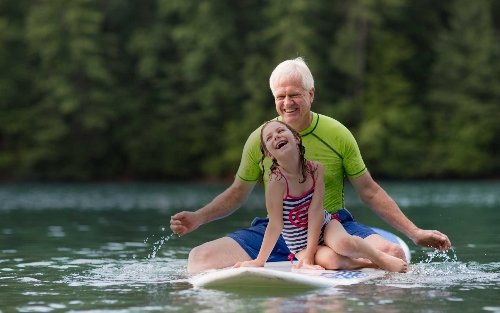 ~ GCH Network Newsletter ~
Communities On the Water & the Golf Course
Vol. 16, No. 1,056    October 30, 2015    Circ. 15,000
Special Retirement Planner Issue
* RETIREMENT PLANNER – The Cliffs at Keowee Springs, SC
* RETIREMENT LIVING: 3 Keys to Returning to Action at Your Community
* Coming to GolfCourseHome – NC & FL Communities
* Watch for our Next Issue – Tuesday, November 2nd!
FIRST TEE
Good Morning! Welcome to this week's Retirement Planner. When I was in college, rehabbing an injury meant going to a bleak trainer's office and working out in some corner alone. Today's luxury retirement communities have come a long way since then, recognizing that health, wellness and fitness goes far beyond a pool and a yoga mat.
More and more communities such as The Cliffs, WindRiver and Wycliffe are adding new facilities, top staff and in-depth programs that are world-class and designed for impressive results. See our story below about the 3 keys elements your future community should offer for your best rehab so you can be assured of getting back in action quickly and in the proper fashion.–David Lott, Founder/Publisher
RETIREMENT PLANNER
The Cliffs at Keowee Springs, SC
Location: 175 Spring Cove Way, Six Mile, SC
Quick Overview
Category: Private
Real Estate: From $150,000
Properties: Cottages, Homes, Lots, Patio Homes, Private Residence Club – Fractionals, Resale Homes
Views: Golf, Lake, Marina, Preserve, Mountains, Wooded
Gated: Yes
24-Hour Security: Yes
Course Designer: Tom Fazio
Set along the blue waters of Lake Keowee, The Cliffs at Keowee Springs pairs a recreational lakefront lifestyle with energy and culture, embodied by the community's neighboring college town, home to Clemson University.
From its Tom Fazio Signature golf course designed for families and players of all skill levels, to the easygoing environment and casual fare at The Porch, Keowee Springs is one of The Cliffs' most family-friendly communities where all generations can easily come together. Send me more information about The Cliffs at Keowee Springs!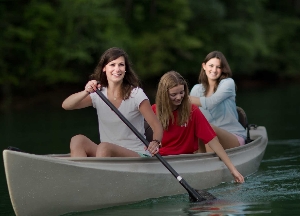 > Life on the lake: Boating and kayaking on Lake Keowee.
From the Mountains to the Beach
With breathtaking views of the Blue Ridge Mountains, Lake Keowee is an 18,500-acre gem. Perched on a hillside overlooking the crystal-clear lake, The Beach Club at The Cliffs at Keowee Springs is a hub of activity from spring to fall as members and families soak up the sunny days.
All the fine leisure pursuits and challenges are part of the Cliffs at Lake Keowee lifestyle, from golf and tennis to fitness, boating, hiking, biking and even off-road motoring. Horse lovers can access the Equestrian Center at sister property The Cliffs at Keowee Vineyards. Send me more information about The Cliffs at Keowee Springs!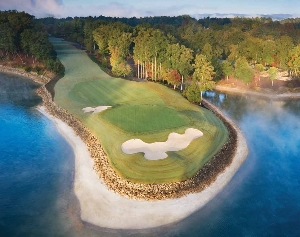 > Tom Fazio's dynamic design takes you to the lake and back.
Tom Fazio's Most Scenic
A challenging and rewarding experience for golfers of all ages and skill levels, the Keowee Springs golf course is one of Tom Fazio's most scenic and uniquely designed layouts. Completed in 2008, the course was recognized as a 'Best New Golf Course' by Golf Digest and Golfweek, and it was named "Best of the Best" by The Robb Report.
A special feature is its three approachable loops of six holes and a set of family tees designed so you can play just six or 12 holes instead of a full 18. These more approachable courses are favorites for golf beginners at The Cliffs who call themselves the Sassy Sixers (ladies) and the Mac Daddies (men).

> The active life includes hiking and biking.

A Twofer on Lake Keowee
With two Cliffs Lake Keowee communities, you can motor between them by boat, tying up at community docks or boat slips while you play a round of golf or enjoy waterfront dining at the clubs.
The Cliffs at Keowee Vineyards' full-service marina offers boat storage, a ships store, wet slips, fuel dock, dry storage facilities and launch capabilities. Send me more information about The Cliffs at Keowee Springs!
RETIREMENT LIVING
3 Keys to Returning to Action at Your Community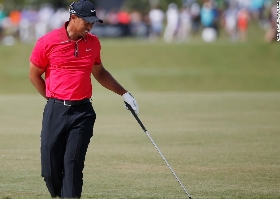 > Back problems are keeping the former No. 1 off the links.
Over the past few years Tiger Woods has been making more news about his comebacks from back pain than winning tournaments. But he is just the poster boy for the increased attention to, and sophistication of, modern injury rehabilitation.
A recent report on WebMD.com cited that 500,000 knee replacements and more than 175,000 hip replacements are performed annually, with more to come. Hip joint replacements are expected to almost double in the next 20 years. Knee replacements will rise even more–a whopping 673%, according to research from the American Academy of Orthopaedic Surgeons.
Why is this happening? As one surgeon pointed out: Baby Boomers "aren't willing to be sedentary or change their lifestyle" even when injuries, arthritis or other mobility-compromising conditions strike.
Thus given the inevitability of some kind of mechanical disruptions as we age, or simply the need to stay on top of an old injury, it makes sense that luxury retirement and country club communities are upping their game in this area. Here are three important aspects they are focusing on and you should look for–areas that will help you rehab completely and come back to swing, paddle, peddle and more another day.
Significant Space for Rehabilitation Facilities & Staff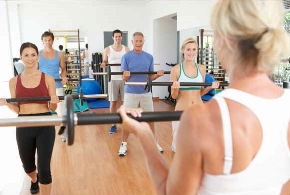 WindRiver, TN: Making a major investment in wellness.
There's a clear emphasis on regaining strength and mobility following injury or surgery at WindRiver, a forward-thinking community in eastern Tennessee that's making a major commitment to rehabilitation by devoting significant acreage to an entire Wellness Campus.
Community planners at WindRiver were cognizant that over time, a resident's chances of needing or electing an orthopedic procedure that would then require rehab are fairly high. With a club pool, steam-and-sauna room, plus a full fitness center, residents will be able to follow rehab protocols in an ideal environment that encourages a speedy return to activity.
On-Site Professional Staff and Services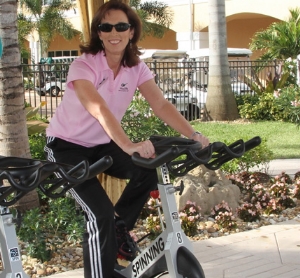 Wycliffe Golf & CC, FL features professional physical therapy services.
Along with offering a complete health-and-fitness infrastructure, some communities in the GCH portfolio go a step further by providing professional physical therapy services. Inside the modern, fully outfitted Fitness Center at Wycliffe Golf & Country Club a rehabbing resident member can receive help from Physiotherapy Associates staff members.
Whether it's general orthopedics, sports injuries, spinal care, women's health or even neurological rehabilitation, the professionals at this Palm Beach-area center have the expertise to guide Wycliffe residents back to health.
Association with a Full-Service Medical Center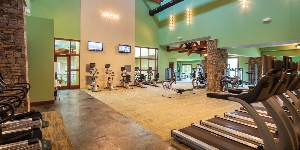 Cliffs at Mountain Park, SC: Close to a medical center & top facilities on-site.
Among the outstanding GCH destinations for active retirement, it's even possible to find a community that is directly affiliated—and physically adjacent to—a full-service medical center with in-patient and out-patient orthopedic care.
The Cliffs at Mountain Park, SC is just such a community. Within its Village Center, a European-design, mixed-use campus, is the Pelham Medical Center which opened in 2008 to offer expert medical care, including surgery, in a small-scale setting.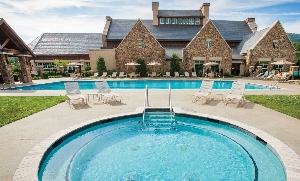 The Cliffs at Mountain Park, SC: Recover in style.
Of course, any Cliffs Communities resident who returns home from a hospital stay will find exercise physiologists who work with members on training to meet all their personal fitness goals. In addition, massage therapy, preventative and rehabilitative care and chiropractic care are all available as well.
Furthermore, the yoga programs at The Cliffs are among the finest in the country, led by certified yoga instructor Joan Craig. There are even specialists in residence from the world–renowned Gray Institute—all certified as Fellows of Applied Functional Science and known for their work with champion athletes and even the U.S. Navy Seals. With that kind of top-drawer support, your comeback is nearly assured.

Coming to Golf Course Home Network
Silver Creek Plantation, NC
Yacht & Country Club, FL