EDITOR'S NOTE: SOLD
Listed by Vineyard Open House Real Estate, this home was sold for $1,450,000 on Nov. 19, 2018. An offer was accepted by Broker David Lott just one day after the home was completed.

Luxury builder Ray Bilodeau has commenced work on a new 4-BR/3.5-BA home on Bayberry Lane within the private community of Tashmoo Wood.
Set on 1.05 acres in the town of Tisbury on the island of Martha's Vineyard, the home's special features will include an open floor plan, HERS-rated heating and cooling, hardwood floors, 2nd-floor flex-space, two-car garage, stone retaining walls and much more.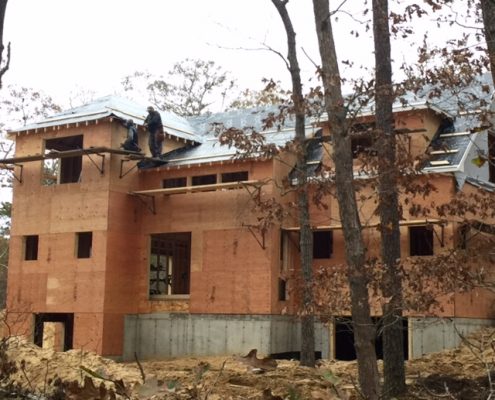 Ray Bilodeau Building & Contracting is the builder.
Bayberry Lane Home at Tashmoo Wood
The residence will go on the market on February 21, 2018. That's when the listing will begin to appear in the island's local LINK MLS system and on major listing websites such as Zillow, Realtor.com, Homes.com and others.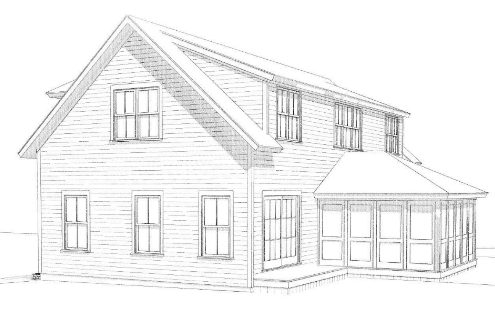 Screened-in porch, multiple sliders bring the outside in.
Listed by Vineyard Open House Real Estate
Bilodeau is working with Vineyard Open House Real Estate of Vineyard Haven which will market the property. Principal Broker David Lott and Bilodeau recently concluded a successful collaboration with the sale of a 5-BR/4BA luxury home on Tashmoo Avenue, also in Vineyard Haven. The selling price was $950,000, a record price for the immediate area.
For More Information, contact David Lott, cell/text: 203-270-9357. Send me more information about this Tashmoo Wood home!
About Tashmoo Wood
Tashmoo Wood is a private community set on more than 100 acres next to Mink Meadows Golf Club in Vineyard Haven on the island of Martha's Vineyard.
The community is sited on the edge of Lake Tashmoo from which you can take your boat directly out into Vineyard Sound and the Atlantic.
Private Beach & Kayak Launch
Community amenities include a private North Shore association beach, four tennis courts and swimming pool, plus a kayak/canoe launch on Lake Tashmoo. Send me more information about Tashmoo Wood!
Tashmoo Wood features 54 townhouse-style condominiums and 20 single-family homes. Directly across from the community entrance is the 92-acre preserve called West Chop Woods.
Residents have a quick 3-minute drive to Vineyard Haven where there are multiple restaurants, including the famous Black Dog Tavern and Bakery, movie theaters, supermarkets, hardware store, boutiques, galleries and more. Send me more information about Tashmoo Wood!