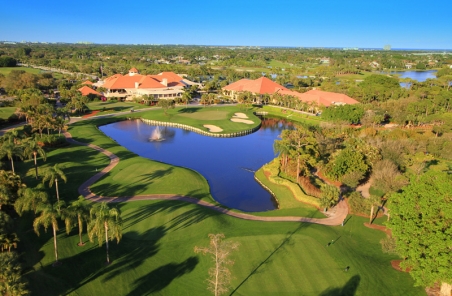 With an uncertain economic climate, communities in debt, and a vast array of choices, you need to be be armed with the facts when buying real estate in a golf community. Here's how to get them.
Searching for a master-planned golf or waterview community today has gotten complicated. An uncertain economic environment, distressed communities and a wide variety of community types from from golf and waterview to mountain, equestrian, boating and more can make the process a long one.
Developers, marketers, agents and builders alike advise prospective buyers to do their homework first and to ask the tough questions. The financial health of a community, especially, should be top of mind, as well as fees from initiation to homeowners association to club dues and amenity extras.
With the abundant number of lifestyle communities to choose from, you can still can have fun looking, You should do it online, ask friends for recommendations, attend real estate shows, and, most importantly, visit the communities personally. Then when you arrive onsite at a community, you should be prepared to soak up all the information you can.
To help you arm yourself with the facts, we've put together the Ten Commandments of Golf Real Estate Buying. Half the battle of information gathering is knowing the right questions to ask. And like any investment decision, you need to be aware of the pitfalls and hazards. Follow these commandments and you'll be successful in finding the fairway home that best suits you.
1. Create Your Best Case Scenario
2. Use the Inside Sales Team
3. Consider the Resale Value
4. Eliminate the Ultimate Surprise
5. Ask About the Homeowners Association
6. Ask "How Private Is it Really?"
7. Is the Marquee Golf Course Designer Worth It?
8. Find Out What the Amenities Will Be & When They Will Be In
9. Visit More than Once, and Talk to Owners
10. Investigate the surrounding area
I. Create Your Best Case Scenario
It's easy to be blinded by the literally hundreds of choices open to you, say Nancy Thorton, an Atlanta-based sales associate for Harry Norman Realty's Second Home Resource Center. She handles property sales at 85 communities from Virginia to Florida.
"In most areas there are so many golf communities that you are going to be overwhelmed prospecting on your own," she says. "The houses are going to be much the same: patio, cluster, singly-family homes, zero lot line. But what you need is to have is someone to help you find out things like the average age of the residents in the community, what the amenities are, the activities and the future direction of the community itself."
It is here that Thorton voiced what many professionals in the industry have advised: "First create your own best-case scenario. There is so much out there that you have to imagine something that's specific to your needs. The house is irrelevant, it's the amenities that are going to make it happen."
In creating your best case scenario, geography, says real estate consultant Myers Barnes, is where you start. Do you want mountains, ocean, lake, desert, riverfront? And what about weather? Some golfers want four seasons, so they look at the mid-Atlantic areas, Virginia and North Carolina. Use our simple questionnaire to create your own best case scenario.
Others want sun and plenty of it and look at Florida, Southern California, Las Vegas (a rapidly growing golf destination) Phoenix and Tucson. Some can't make up their mind. New Englanders that run to the Florida sunshine and then move part way back up north to the Carolinas are called "halfbacks" by industry insiders.
A recent trend is the building of golf communities near business centers whereupon executives make their golf community home their primary home. "It's like coming home to a vacation every day," says the marketing director at Wakefield Plantation, a growing community being built in Raleigh, North Carolina, near the bustling Research Triangle Park.
"When people buy here they want to know about commuting, shopping and other things that they need," she says. Many of those critical items are all right on the grounds of the 2,200-acre community, another trend in which communities offer everything from medical facilities, schools and shopping in addition to golf and tennis right within the community's gates.
II. Use the "Inside" Sales Team
And once you've decided to visit a community, either use the community's own sales people or resident realtors who live within the community and list and sell properties within that community.
Often local brokers can sell properties inside a golf community, but few people know a community better than an actual, full-time resident realtor or the community?s own sales staff. Furthermore, resident realtors know that they will be seeing their clients long after the sale–as their neighbor–and thus have a strong incentive to provide the best possible deal.
And, finally, if the developer has departed and there are no inside sales people, ask the Homeowners Association (HOA) whom they recommend to use. Often, an HOA will select a local broker to handle the resales once all the original lots and homes have sold.
Frenchman's Reserve, FL
Frenchman's Reserve, FL: Toll Brothers' quality and elegance.
III. Consider Resale Value
Another critical consideration in your purchase is the ultimate value of your investment. Because buying a home is usually a family's biggest investment, it makes sense to see what factors are in place that will affect its value when it comes time to sell.
These factors are also critically tied into the quality of life at the community itself. Things such as population density, club ownership when the developer exits, total golf membership vs. number of golf holes, private vs. semi-private. All these items help to define the quality and exclusivity of the community.
"You pay for exclusivity and at a private club that price is paid for by the members," say Mike Norton, marketing director at Uwharrie Point, located just 60 minutes west of Pinehurst at the edge of the Uwharrie Mountains. "At the more affordable properties it is usually subsidized by the developer. Outside play is also used to help pay for expenses. Dues may only $100 to $200 per month, but you'll find it harder to get tee times."
Thus, if you think the greens fees are a bit high for you, understand that when you find ones that are less expensive, it may be harder to get the tee time you want.
IV. Eliminate the Ultimate Surprise
The best surprise is no surprise, as Dick Cavett used to say. And when a club is to be ultimately owned by the members, you better make sure that you're not saddled with unexpected expenses when the developer moves on to newer pastures.
"You have to take a close look at the dues structure," advises Norton. "Ask the develope–are these realistic numbers? Are they going to support the club, when the developer sells out and the members become responsible for the running of the club?
"Some things are done with the numbers to drive real estate," observes Norton, "so that when it comes time for the owners to take over, there could be a rude awakening and a big liability. Dues will have to go up and a lot of people will be unhappy. Any developer should be willing to discuss what the numbers will be like when the developer leaves. If he won't, head for the door."
That leaves Norton to mention that you should also look into the developer's background. Examine his track record and his reputation as well as the continuing health of other communities after he has sold out and moved on to other projects.
The developer's track record is an important indication of quality, agrees another community executive. "Find a community the developer worked on 10 years earlier," he advises, "and see how it turned out. And look at the strength of the community's owner association."
These days, checking into not only the developer, but the basic financial strength of the community is a key. For example, many high-end communities need high dues and initiation fees to support the club. Ask how many members have left the community recently, how stable the membership is and how many new members have joined in the past year.
V. Check Out the Homeowners Association (HOA)
The homeowner association (HOA) is the governing body at a community that is owned by its members. Ford's Colony's HOA, for example, has been ranked the No. 1 community association in the U.S. by the Community Association Institute.
The Ford's Colony HOA has been running the community for a long time, says community executives, and, has managed its cash flow so well that it has stocked up a nice reserve for storm clean-up, road re-paving and other typically large expenditures. There will be no unpleasant financial surprises for Ford's Colony owners.
VI. How Private Is It Really?
"Outside play" is often a nebulous term that needs clarification. Is it certain days of the week, certain times, etc.? Get a sense of how much it will take away from your ability to play when you want. Balance that need with the lower (subsidized) dues you will have to pay.
VII. Is the Marquee Designer Worth It?
Another factor influencing your club finances is the designer of the golf course. The bigger the name, the higher price you're going to pay. Jack Nicklaus, Robert Trent Jones, RT Jones Jr., and Tom Fazio are among the top tier names that will alert you that you are paying a premium because their names are on the course.
But the flip side is that these names should not only ensure you of a superior golf course, but they should also signal top-quality work throughout the development. The golf design superstars who want to maintain a long-lived career will not put their names on anything that's not dedicated to quality.
In fact, says Norton, you should think of the designer's name as a sought-after amenity that increases the desirability of the community.
"It affects the pace of sale," he says. "At Uwharrie our overriding amenity is the lake. Without the proper amenity, you're not going to get the business." Norton is lucky to have two big assets, the lake and the golf course, which has been rated No. 2 in the state by North Carolina magazine.
For more insight on the additional value a big-name designer brings to a community and its real estate, see the GolfCourseHome series on the subject, by clicking here.
VIII. Amenities: What, When & If?
You'd be surprised how many golf communities try to sell just dirt and a master-plan. Thorton suggests asking not only what the amenities are, but when they'll be ready to use. At the very least, the golf course should be in.
At times like these you're in a good position to ask about incentives. Developers want cash as soon as possible and so you're liable to get a sizable percentage off the cost of a golf membership, interior design upgrades and other perks.
Getting in on the ground floor also allows you to take advantage of the maximum amount of appreciation (or depreciation). Some communities bundle a golf membership in with a property purchase, others require you to buy in. A membership at a private club, for instance, can cost $50,000 or more, but it can be folded into your mortgage.
In most communities, geography is destiny–the locale will be the major factor in determining outside activities and amenities. For example, if you look at Red Ledges, Heber City, Utah, not only will you find a superb Jack Nicklaus Signature course, but you'll also have access to the some of North America's most exhilarating ski areas, including the #1 rated Deer Valley.
IX. Visit the Surrounding Area and Visit More Than Once
Finally, visit the property and play golf, and ideally, do it more than once, says Thorton. Sometimes you can't because of time or distance, but you should make the effort to come back if you can.
And while you're there, get the names of members and talk to them. Would they buy there again knowing what they know now? Are they happy there? What's the social life like? Is the access to golf and golf programs equal for both sexes?
Subscribe to the local newspaper to get a feel for local issues
If you want to use the local facilities such as schools and hospitals, visit them personally. A recent horror story recounted by one sales agent in North Carolina tells how a couple had signed a purchase agreement and then quietly visited the local schools on an unscheduled visit. The schools fell far short of their expectations and they pulled out of the sale.
X. Are Women Being Served?
Another issue is the equality of the golf programs for women. More women are playing and the quality of their play is rising and they expect their facilities to be on a par with the men. Ask about special times for women, women's teams and women's lockerrooms, which should be the same size and quality as the men's.
Change could be the final watchword for the way golf communities are bought today. From the internet to real estate trade shows to financial pitfalls, the market for golf course communities as well as they way people buy them has evolved considerably from just a few years ago. Follow the 10 commandments outlined here and your search for your fairway dream home will be a successful one.