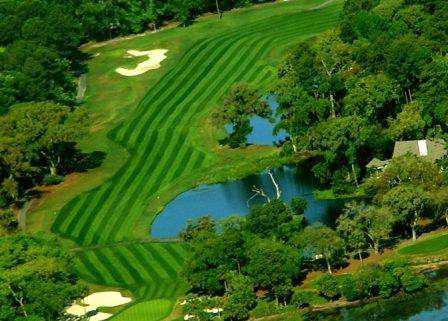 You're invited to visit the South Carolina getaway of Callawassie Island, a Lowcountry retreat located just minutes from Hilton Head Island, on a special Discovery Package.
With a Discovery Tour, you can get a taste of Callawassie Island living during a 3-day/2-night stay in one of the on-island Cottages or Villas.
You will enjoy unlimited access to all island amenities, including fitness center, two swimming pools, newly renovated Clubhouse and River Club and more. Send me more information about this Discovery Visit!
Play on six Har-Tru tennis courts or one of three pristine golf courses, and even receive a tennis or golf lesson from one of the on-site pros.
However you may choose to spend your time, you'll live like a local, indulge in fine dining, and unwind like you've been meaning to for years. Send me more information about this Discovery Visit!
Take a Guided Tour
Though you are encouraged to explore the island at your own pace, there are several guided tours and activities available to make your visit a truly unforgettable experience.
With the help of the club's Participant Ambassadors, you can get a feel for the community as they accompany you on your activities and fill you in on everything Callawassie Island has to offer.
In addition to scheduling a personalized real estate tour of the outstanding homes, homesites, and amenities available on the island, community representatives will work with you to schedule the activities that matter the most to you during your visit. Send me more information about this Discovery Visit!
Callawassie Island Discovery Package Features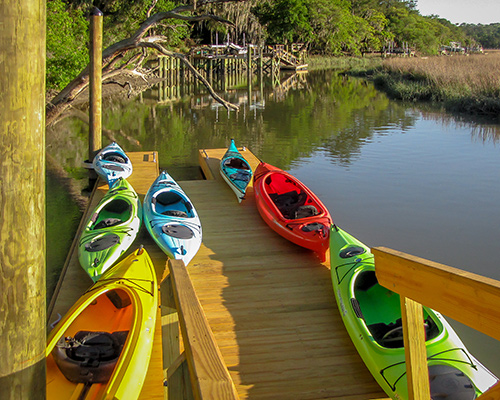 Golf or tennis lesson with one of the club Pros
Workout session with a personal trainer
Walking tour of the island with a Certified Master Naturalist Naturalist
Guided kayak excursion from the Paddler's Dock
Boat tour of the Colleton River
Walking tour of nearby Historic Beaufort
$50 credit to dine at the Clubhouse or River Club
Bicycle on which to explore the island on your own
Massage at the Fitness Center Therapy Room
Please inquire for availability and current rates

Please keep in mind that accommodations are available on a first-come, first-served basis. To reserve your Discovery Visit, please fill out the inquiry form at the top-right of this page, or click this link: Send me more information about Callawassie Island!
> More Community Information: Callawassie Island, SC
About Callawassie Island, SC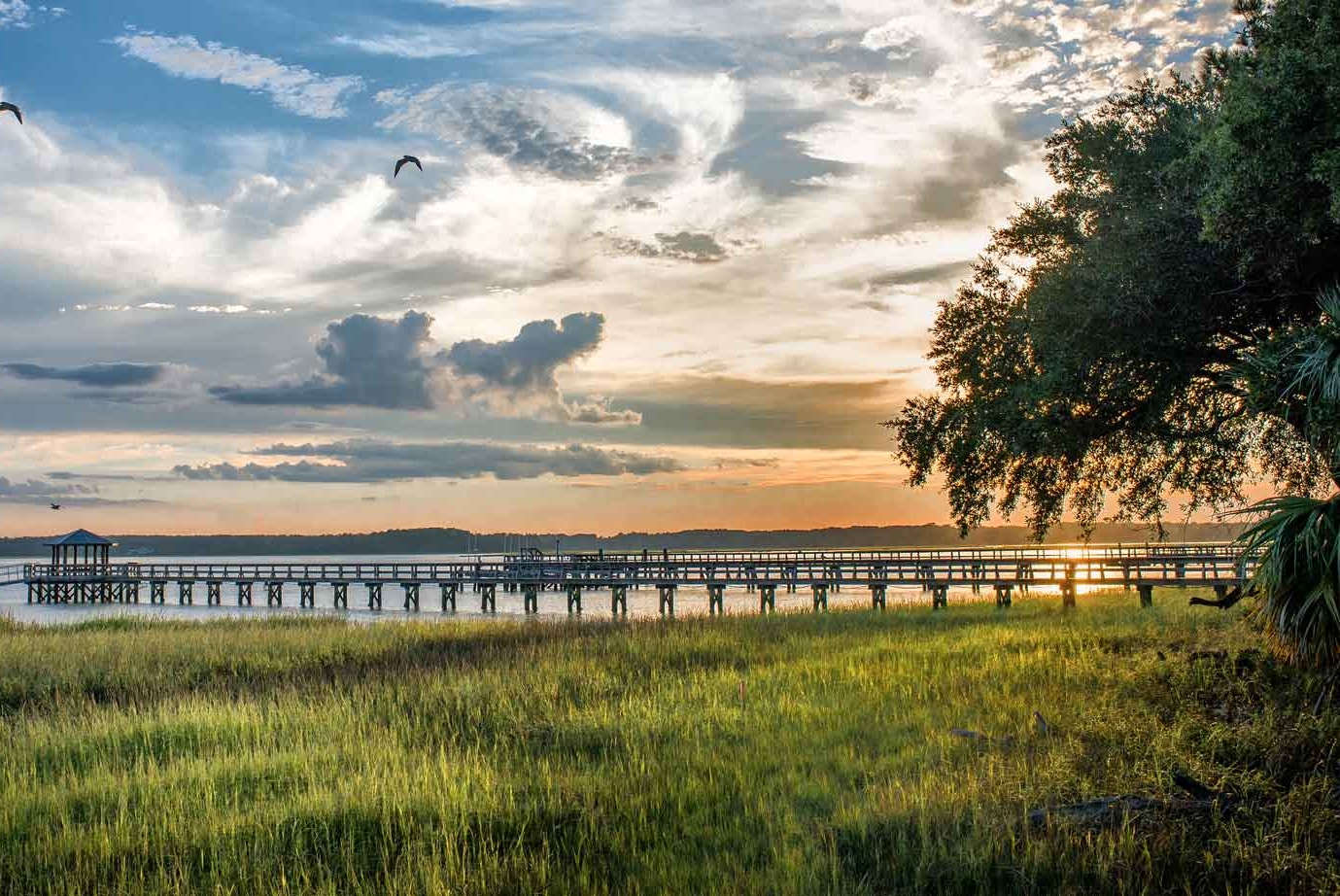 Fish from the Callawassie tidewater dock.
Callawassie Island is a private, gated Lowcountry island community offering world-class golf, top-notch tennis and a thriving social lifestyle. Deep-water access to the Colleton River and the Atlantic Ocean further expands the range of activities for its active residents.
Located minutes from Interstate-95, Hilton Head, Bluffton, and the Savannah/Hilton Head International Airport, this community of fine homes and homesites is framed by ancient oak trees and flourishing wildlife. Send me more information about Callawassie Island!
The surrounding tidal rivers, creeks, and freshwater ponds are home to some of the world's best inshore fishing. Residents catch shrimp and crab right off the community docks, while just a short drive away they enjoy some of the state's most beautiful beaches.
Golf by Tom Fazio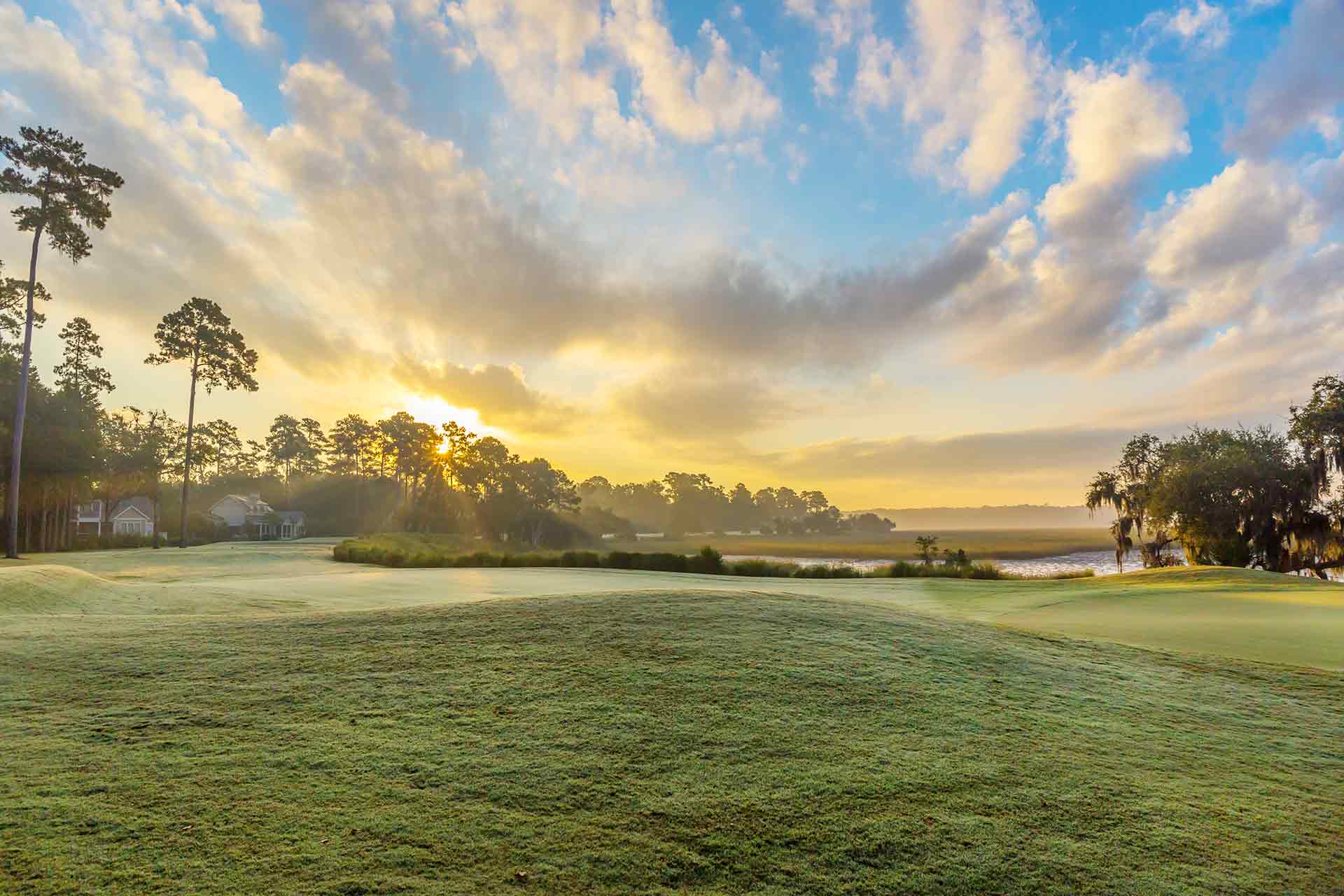 The Callawassie Island layout is captured on a magical morning.
In designing the 27-hole Callawassie Island golf course, Tom Fazio took advantage of a lush natural environment to create intriguing visual drama as well as excellent playability.
Live oaks and magnolias come into play on most holes, along with freshwater ponds and saltwater marshes. Fazio's three distinct nines, with their inspiring vistas and abundant wildlife, were recently enhanced by a $4 million renovation. Send me more information about Callawassie Island!