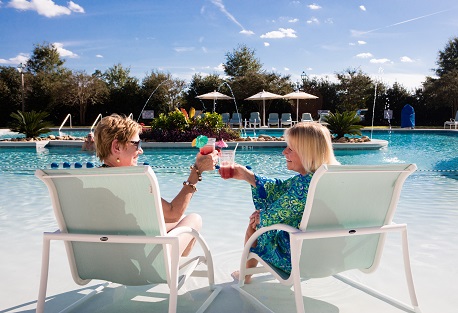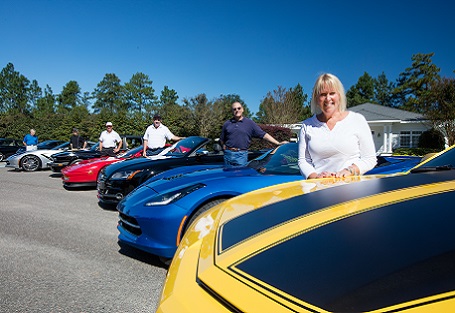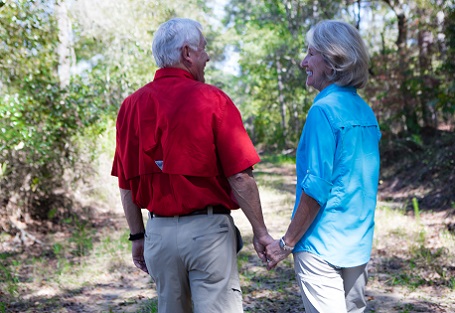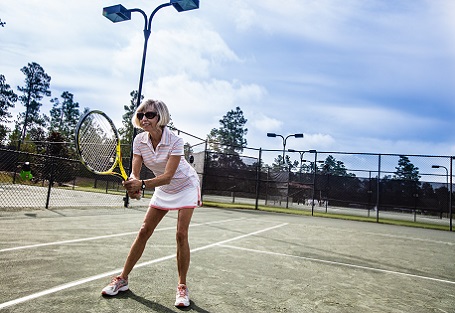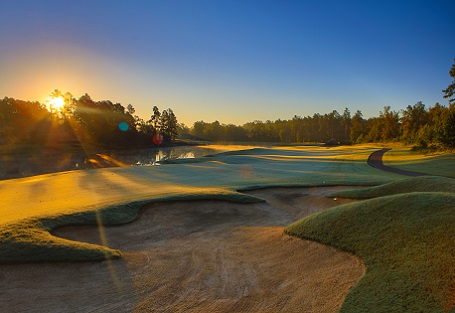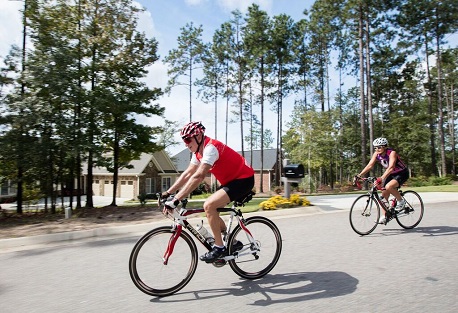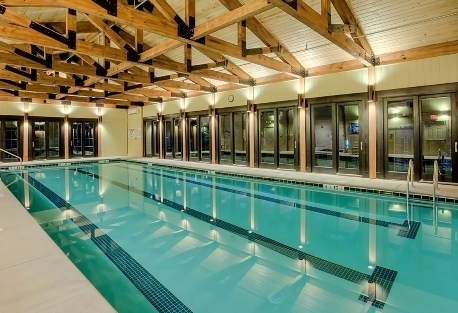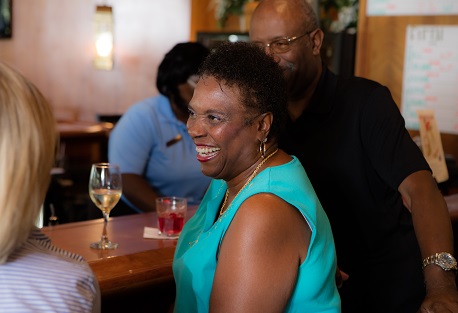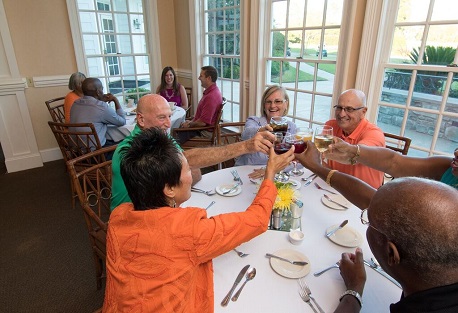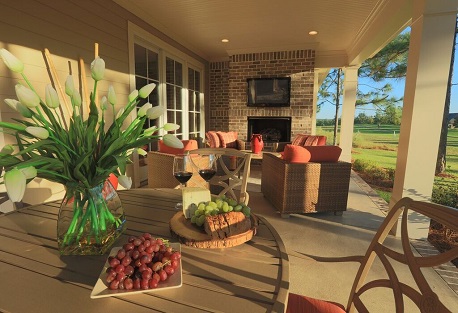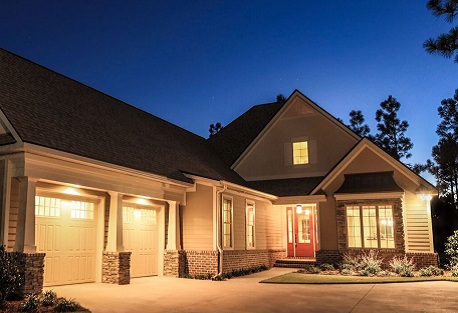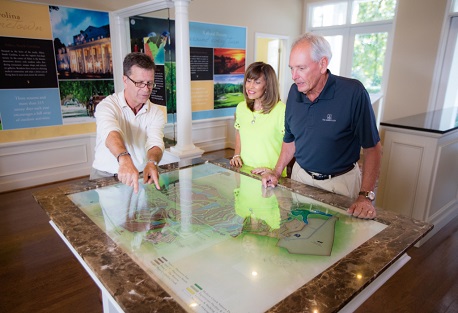 Woodside is a private, masterfully crafted lifestyle community located in Aiken, South Carolina, a Southern Living Magazine's "South's Best Small Town."
With a year-round mild climate and a selection of amenities and real estate options to match every taste, Woodside continues to set the standard for luxury living in the South.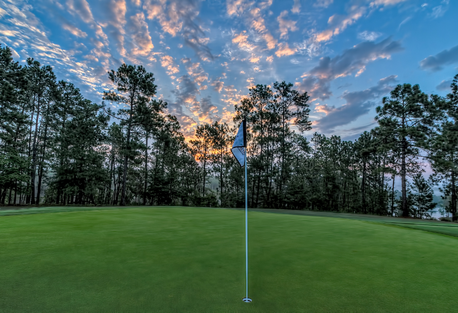 Woodside, SC: Private community in "South's Best Small Town."
This gated community is known for a seamless blend of warm sense of community with an active lifestyle. Whether it's walking or biking, golf or racquet sports, croquet or cornhole, birds or butterflies, arts & crafts or cards, come find your passion at Woodside!  Send me more information about Woodside!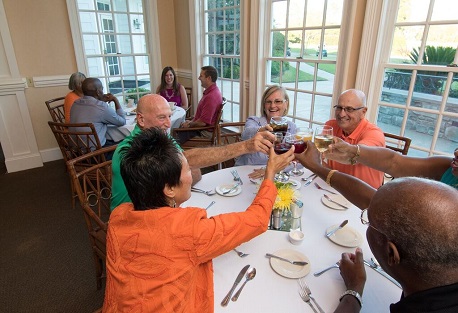 Enjoy fine country club dining with golf course views.
Lakes and Preserves
Couples and families who reside at Woodside enjoy 200 acres of lakes and walking the miles of nature trails that wind through the grounds and exploring the many acres of pristine parks that are designated as a bluebird sanctuary.
The golfer is well served at Woodside where there are championship courses by Rees Jones and Bob Cupp, Nicklaus Design and the community's fourth and newest course designed by Fuzzy Zoeller and Clyde Johnston. There is also a lovely little par-3 course. Send me more information about Woodside!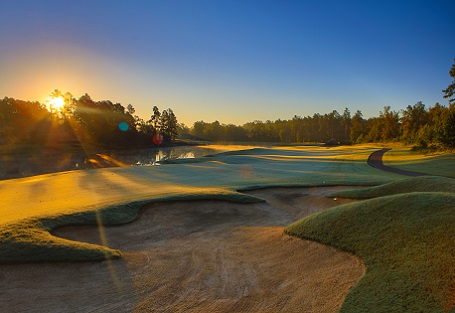 You'll say, "Amen," to the great golf you experience.
Neighborhoods & Homes
Woodside is a welcoming community with a stunning collection of distinctive neighborhoods and a variety of lifestyle options, lushly landscaped and thoughtfully planned throughout.
The Highlands's gracious homes overlook The Reserve Club, while The Enclave offers a refined refuge with an emphasis on outdoor living.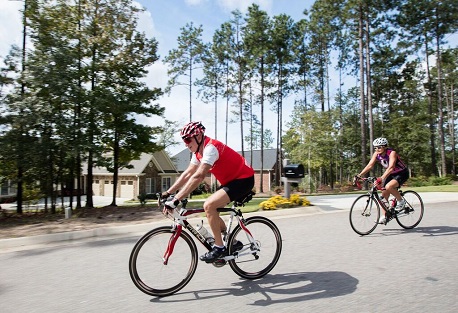 Stay fit year-round in the clubhouse and on the trails.

The Overlook neighborhood is ideal for families, with its inviting duck pond and views of Spalding Lake. The Townhomes at Bellewood offer carefree living at its finest.
These are just a few of the many available settings. For details and pricing, see the real estate section below. Send me more information about Woodside!
Real Estate
Woodside is distinguished by a vast collection of unique neighborhoods and a variety of lifestyle options, lushly landscaped and thoughtfully planned all throughout.
Woodside's newest neighborhood, Bristlecone, features sublime views of Woodside's newest addition to its collection of parks and greenspaces, The Butterfly Park, with direct access to scenic walking trails.
Take advantage of all the perks of a custom designed home in Woodside's newest neighborhood, Bristlecone.
This neighborhood features a unique butterfly park, access to 17+ miles of nature trails, and is perfect for individuals who are looking for a lower maintenance property.
You'll be able to entertain guests and watch the bluebirds, butterflies, and hummingbirds throughout the day from the spacious rear covered porch, or from right outside your front door from this Oakmont home design, offered exclusively by Carolina Signature Homes, Aiken's only Southern Living Custom Home Builder. Send me more information about Woodside!
Featured Listing
Click here to view featured listing
Amenities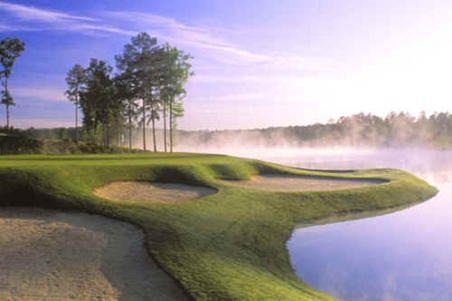 Four golf courses will keep your game challenged.
Championship Golf Courses
Woodside is a golfer's paradise, with miles of sloping hillsides dedicated to producing the most jaw-dropping golf course views imaginable.
While residents enjoy golf courses throughout Woodside's neighborhoods, the hub for this leisurely and relaxing sport is The Reserve Club, where you can get fitted for the perfect set of irons, putters, utility woods, drivers, and wedges with the help of our PGA trained professional staff, or suit up in style at the clubhouse's Golf Shop.
Warm up on your own at the comprehensive practice facility which offers putting greens, short game targets, practice bunkers, chipping greens and much more.
Take up the game by taking advantage of private or group lessons with Woodside's PGA Professionals or join a group of friends with the men's and ladies' golf associations for a fun, social way to stay active.
On top of a year-round tournament schedule, The Reserve Club offers everything a golf enthusiast could ask for. Send me more information about Woodside!
Nature Trails
Residents of Woodside enjoy access to lakes for fishing or kayaking, an extensive system of nature trails, and an abundance of greenspace where nature's beauty is on full display.
Walking and hiking trails can be found everywhere in Woodside, with more than 17 miles of trails perfect for either a morning stroll or a more intense hike.
Hollow Creek Land Preserve, a dedicated nature preserve adjacent to Woodside, features several miles of walkable scenic views and includes access to Anderson Pond where canoeing, fishing and kayaking can be enjoyed. Send me more information about Woodside!
Village Health and Wellness Center
Along with outdoor pursuits, members of The Reserve Club enjoy premier access to Village Fitness, a boutique-style fitness center with an array of conveniences at your disposal, located in The Village at Woodside.
As a full-service gym, Village Fitness has equipment suitable for weight-lifting, cardio and strength-training.
Members have access to a heated saltwater pool, and there are a variety of weekly group classes, including activities like Barre, Zumba, Pilates, Yoga, Aerial Yoga, Kickboxing, and more.
If you prefer a more custom fitness journey, Village Fitness offers sessions with personal trainers to get you on the right track with your health, suitable for either novices or professionals.
The Village at Woodside is also home to The Village Health and Wellness Center, a medical campus where residents can find a variety of medical services including primary care practitioners, orthopedists, oncologists, cardiologists, and more. Send me more information about Woodside!
The Reserve Club at Woodside
As the social hub for all of Woodside Communities, The Reserve Club offers a wide variety of amenities including:
2 championship golf courses, including The Reserve Course, an award-winning Nicklaus Design recognized as one of America's Top 10 Best New Private Courses by Golf Digest on its opening, and the Hollow Creek Course, designed by renowned golf course architect, Clyde Johnston
A dedicated racquet pavilion for tennis and pickleball
Golf pro shop
Resort style pool and cabana with an outdoor grill and bar
Elegant dining and sports pub
Various parks and green spaces
More than 60 member-led social groups and clubs
A full calendar of events and more
Area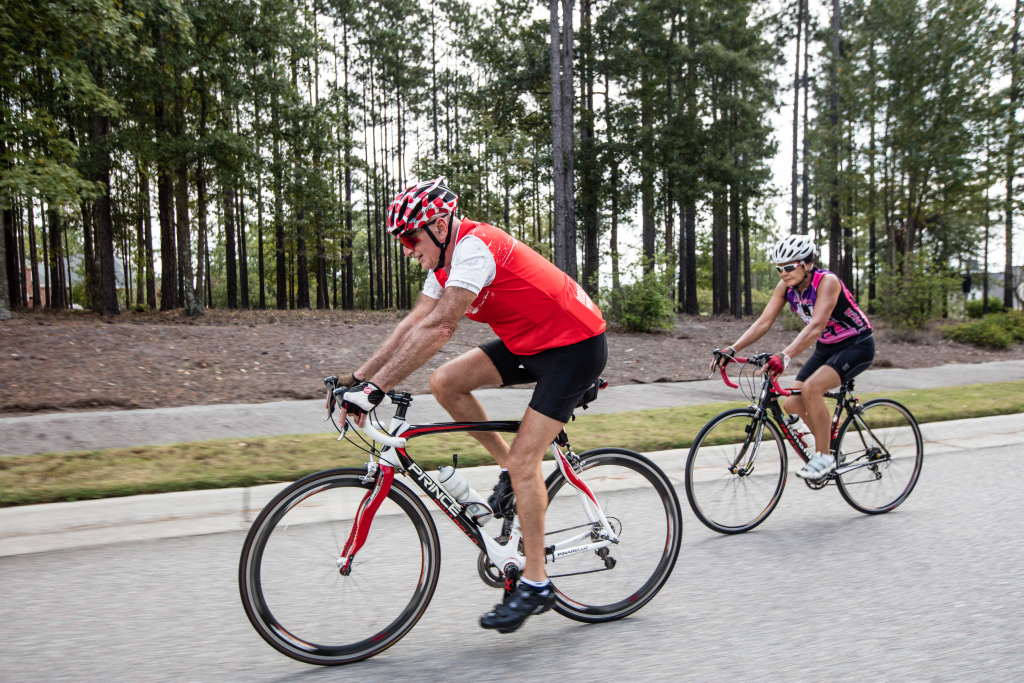 Get on your bike and explore historic Aiken.
Explore Aiken
This small town's quaint downtown thrives with streets of boutiques, restaurants, cafes, bars, galleries, and antique shops.
Aiken is home to many acclaimed artists and boasts a thriving cultural arts calendar. Aiken's bustling business atmosphere is supported by the University of South Carolina in Aiken, Aiken Technical College, an excellent supporting school system, and the acclaimed Aiken Regional Medical Center.
With the perfect balance between a thriving cultural arts center, a busy college town and a suburban small town, Aiken enjoys the best of all worlds. Send me more information about Woodside!
Augusta, GA, Masters & More
Just 30 minutes away from Aiken is the city of Augusta, the second largest city in Georgia and home to one of the southeast's leading medical and dental communities, accredited universities, malls, airports, and of course, The Masters golf tournament.
Aiken is also close to many other metropolitan areas including Columbia, Charleston, and Greenville.
Vacation spots around South Carolina are abundant, with the mountain ranges of the Appalachian trail up north, Myrtle Beach to the east, and several beach towns near and around Charleston and Hilton Head. Whatever your weekend plans are, South Carolina has plenty to choose from. Send me more information about Woodside!
Awards & Honors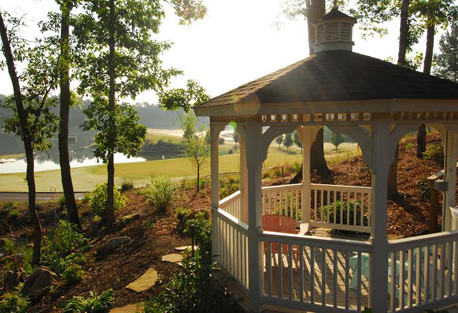 Woodside is a regular on many of the nation's  'Best of…" lists.
Woodside is a regular on many of the nation's most celebrated community accolades:
Ideal-LIVING Magazine's "America's 100 Best Planned Communities" of 2022
Private Communities 2022 "Top Community Award"
Aiken is regularly recognized among Southern Living Magazine's "South's Best Small Towns"
Aiken is one of ideal-LIVING Magazine's "America's 100 Best Places to Live" of 2022
Discovery Package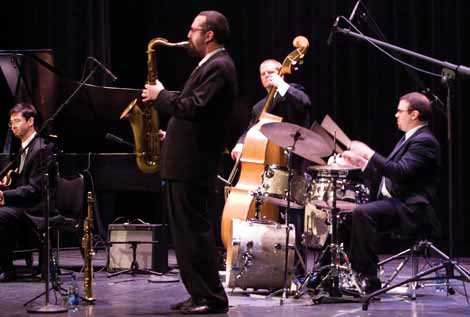 Don't miss Aiken's rich cultural scene.
Come and experience life as an Aiken local with your choice of either a three or four day Discovery Package tour.
You'll have a chance to speak with one of our expert sales associates, tour Woodside's neighborhoods and luxurious amenities, enjoy a complimentary round of golf or tennis, meet your future neighbors, and explore Aiken's incredible and vibrant downtown.  Click to learn more.
Additional Information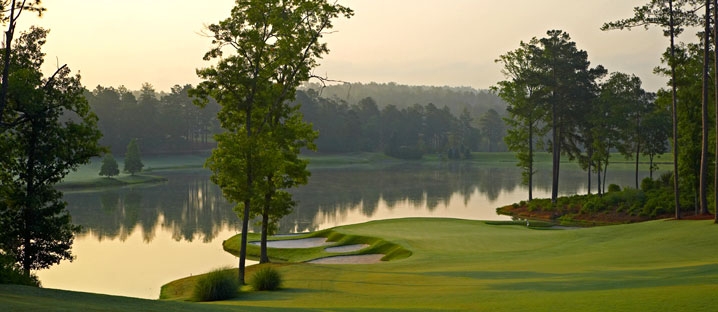 Four golf courses present a daily cornucopia of great views.
The Four Courses
Hollow Creek Course
Woodside's newest course, Hollow Creek Course at the Reserve, is the fourth course in the community's collection. This spectacular course designed by Clyde Johnston and Masters Champion, Fuzzy Zoeller, opened in 2007.
Featuring Tif Eagle greens and Bermuda fairways, the Hollow Creek Course offers five separate tee locations sure to challenge any golfer. The course plays to a par 71 and 7,146 yards from the tips. Send me more information about Woodside!
Nicklaus Design Course
The Nicklaus Design Course, a championship 18-hole course in The Reserve at Woodside, won early praise from golfers and the media and it is still winning fans.
Golf Digest magazine named it to the top 10 of its 2003 list of "America's Best New Private Courses." The course is the heart and soul of the newest neighborhood, The Reserve at Woodside. Send me more information about Woodside!
Wysteria Course
The Wysteria Course, a championship, 18-hole design by Rees Jones, plays to a par 72 and 7,141 yards from the tips. This challenging course opened for play in 1987 and was considered a classic right from the start.
Featuring Tif Eagle greens and Bermuda fairways, Wisteria's Tif Eagle Bermuda Grass greens offer a demanding, yet true, test of your putting skills. With several tee locations, players set their own degree of difficulty, from a forgiving 5,464 yards (Burden tees), to 7,141 yards (Palmetto tees). Send me more information about Woodside!
Plantation Course
The Plantation course opened in 1991. It was designed by Robert E. "Bob" Cupp and features Tif Dwarf greens, and Bermuda fairways. Cupp also assisted on the new nine-hole, par-three course, Hunters Run, which golfers use for a quick round to practice their short games.
Plantation features Tif Dwarf greens and Bermuda fairways and several sets of tees. It plays to a par 72 from 5,347 to 7,254 yards. Send me more information about Woodside!
Nearest Airport
Augusta, GA, 25 miles
Columbia, SC, 50 miles
Location Map
Click here to get directions