Good Morning! Today's focus in the GCH Retirement Planner is Quail Ridge, FL, a private amenity rich community that is known for its friendly residents and beautifully landscaped grounds. Of course, that is just the beginning of the active life you'll lead on its nearly 600 acres. See below for details.
We are also continuing with this week's South Florida theme with travel packages to that area of the Sunshine State, plus community news, events and more. Read on for all the details.–David Lott, Founder/Publisher
GCH Network Newsletter
Communities On the Water & the Golf Course
Vol. 16, No. 1,073    January 8, 2016    Circ. 15,000
Today's Real Estate Deals & News
*  The GCH Retirement Planner – Quail Ridge Golf Club, FL
*  South Florida Travel – Stuart & Palm Beach Gardens, FL
*  What's Going On At…  GlenLakes, FL
*  Community News and Updates – Wycliffe Golf Club, FL
Trending on GolfCourseHome.com:
> GCH Annual Index:The Year's Best Posts & Communities
> South Florida Homes for Sale Special Issue
* Watch for our next issue – Tuesday, January 12th!
THE GCH RETIREMENT PLANNER – Quail Ridge Golf Club, FL

Community Location: Golf Road, Boynton Beach, FL
Quick Overview
Category: Private
Real Estate From: $80,000
Properties: Condos, Homes, Resale Homes, Townhomes, Villas
Discovery Tour: Yes
Stay & Play Package: Yes
Views: Golf
Course Designer: Joe Lee
Gated: Yes
24 Hour Security: Yes
If you're looking for a fully formed community where the emphasis is on friendship, shared values and common activities that create wonderful bonds instead of even more development and unsightly, unsold lots, then you've found your place. Send me more information about Quail Ridge!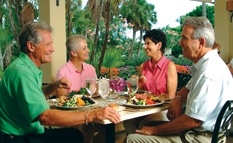 Quail Ridge: FL: A place to make good friends.
Quail Ridge Golf & Country Club is a private golf community and club set on 578 acres that's ideal for those who are approaching retirement or contemplating it in the near future. It is a completed, member-owned community that has reached its membership goal. All amenities are in place.
The Quail Ridge property is gracefully accented by pines, palms, oaks, hibiscus, bougainvillea and other varieties of trees and plants. Featuring condos, villas and luxurious custom homes, this low-density community offers 36 holes of championship golf by Joe Lee, an active lifestyle and close proximity to the culture and amenities of the Palm Beaches. Send me more information about Quail Ridge!


Quail Ridge, FL: 36 holes of Joe Lee golf.
Planning to stay active and in shape? Then you'll be spending time at the 6,000-sf fitness center, 29 swimming pools, 14 tennis courts and walking, jogging, biking trails. The golf is great, too, with both courses easy on the eyes with tree-lined fairways of pines, palms, oaks, ficus and palmettos.
And how's the living at Quail Ridge? In a word, easy.  Various in-house service units take care of all resident needs, including full-service maintenance and repair, plus a fully staffed housekeeping department. Now that's the key to an ideal vacation and retirement! Send me more information about Quail Ridge!
GETAWAYS & STAY 'n' PLAYS

PGA National, FL: Getaway includes luxury lodging, golf.
> PGA National Resort and Spa, Palm Beach Gardens FL invites visitors to try its Gold Golf Package, suited to golfers of all skill levels. This package includes luxury accommodations with private balcony or terrace. full breakfast each day in the Palm Terrace restaurant, a round of golf daily on the Palmer, Fazio, Squire or Estates courses (Surcharge for Champion course), plus unlimited range balls and golf bag storage. Advance tee times are recommended.
Per person, per night, double occupancy rates begin at $329 from now until April 30. Send me more information about PGA National!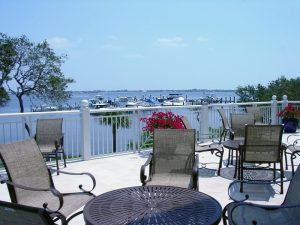 Harbour Ridge, FL: Getaway cost refunded w/ purchase.
> Harbour Ridge Yacht & CC presented by HR Properties, Stuart FL The 2015 GCH Community of the Year is currently offering a winter Discovery Package for 3 days/2 nights with lodging and much more. You'll get the royal treatment with two luncheons and a dinner for two, plus two rounds of golf for two. You also enjoy unlimited use of the tennis and fitness center.
A temporary membership number will be assigned to you while on-property to give you access to the amenities. A personal tour of homes and condos comes with the package.Please note that the total cost of your visit will be refunded if you make a real estate purchase. Package cost: $500. Send me more information about Harbour Ridge!
COMMUNITY NEWS AND UPDATES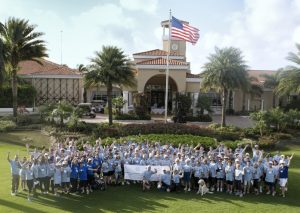 Wycliffe Golf & CC, FL: Holding charity fundraisers.
> Wycliffe Golf & Country Club, Wellington FL and its Wycliffe Charities Foundation recently held their 4th annual Tour de Wycliffe event to raise funds for some of the most worth charities in Palm Beach County, including Hospice of Palm Beach.
The event included a walk/run/bike-ride of three to five miles around the community. All together there were over 100 participants doing their part to help out. Send me more information about Wycliffe!
WHAT'S GOING ON AT…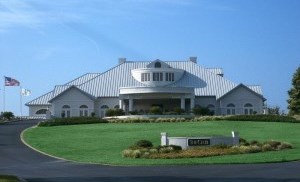 GlenLakes, FL: Hosts comedy event w/ dinner.
>  GlenLakes, Weeki Wachee FL presents "The Standup Comedy Show, with John De Boer, happening Wed., Jan. 13 in the GlenLakes clubhouse. It's a dinner-and-a-show evening that kicks off at 6 p.m. with cocktails and socializing.
Dinner, featuring an entree choice of Chicken Scampi or Swai Bass Bostonian, is served at 6:30 and the show begins at 8. Price is $20 for the dinner plus $10 for the show. Send me more information about GlenLakes!
Coming to Golf Course Home Network
Casa del Lago, Dominican Republic
Silver Creek Plantation, NC
Yacht & Country Club, FL