Walkable Village Centers
Welcome to the third in a special Golf Course Home series, the Top 20 Golf Communities in North America. The series focuses on the golf communities that are leading the charge to create more soul-satisfying and inclusive community experiences beyond golf.
Walkable village centers and the human connections they create for community residents are enjoying renewed attention. A generation ago, an architectural concept called New Urbanism became a much-acclaimed movement with landscape-changing promise.
Its goal was to restore the small-town, human-scale living experience that had been largely forgotten in the age of the automobile and superhighways.
Gated golf communities have discovered the value the village-style central space. The result has made daily life more conducive to casual, old-style human interaction (golf carts not withstanding). Here are three communities that have developed walkable village centers, and in the process, elevated themselves into our Top 20 Golf Communities list.
 Daniel Island, SC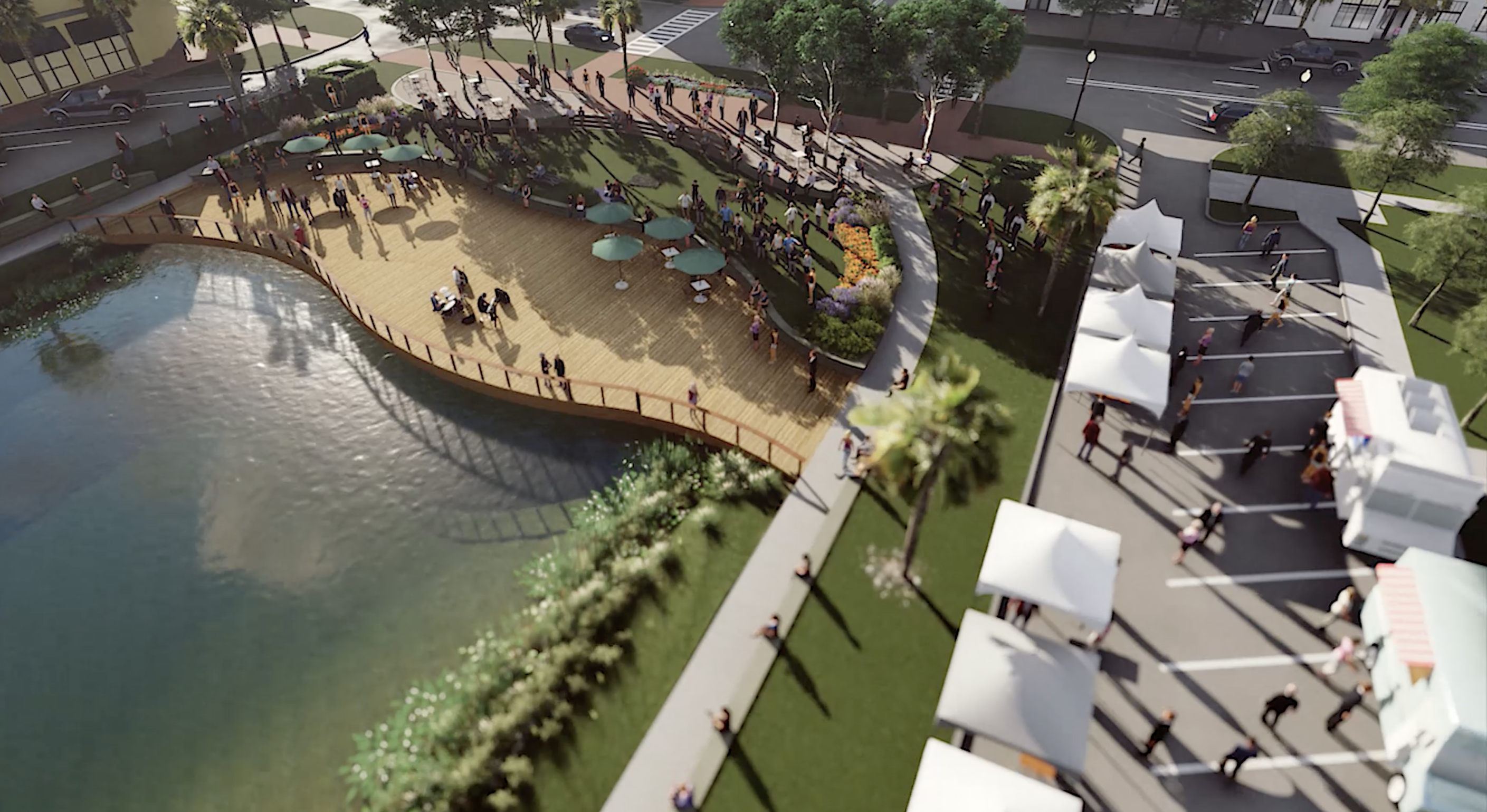 Walkable public spaces make Daniel Island a friendly place.
> Daniel Island, Charleston SC regularly earns praise from architectural forums dedicated to recognizing the best in retro-style, walkable, small-town streetscapes and building design.
Designed as the "island town" it has indeed become, Daniel Island has kept to its core values throughout long years of success and growth. Community parks, churches, three schools and a classic downtown dotted by outdoor cafes and shops are all reachable on foot by bicycle.
Given the allure of easy, all-island access to amenities, many visitors end up buying homes in the mixed-use Downtown section which features on-foot proximity to shops, dining and entertainment. Send me more information about Daniel Island!
Heritage Shores, DE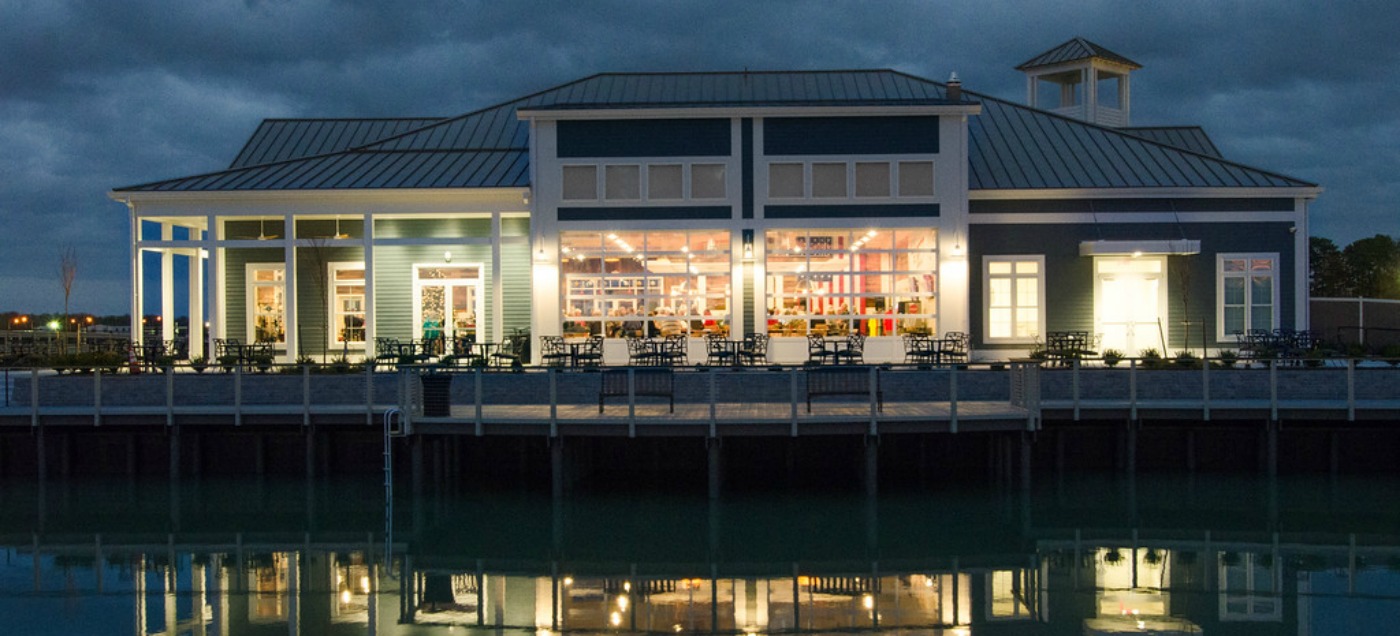 The Sugar Beet Market is a social and shopping magnet.
> Heritage Shores Bridgeville DE  captures the attention of prospective 55-and-up residents with the tagline "Resort-Style Living and a Built-In Social Network." Exemplifying that concept is an instantly popular mixed-use feature called Sugar Beet Market.
Its waterside location, welcoming clock tower and one-stop shopping concept make it a magnet within Heritage Shores. Residents arrive to enjoy made-to-order sandwiches, salads and entrees as they watch the sun set over the lake.
Shelves are stocked with specialty coffee, local honey, Old World bread and artisan cheeses. The Sugar Beet Market also offers a selection of gifts, jewelry and local art. Send me more information about Heritage Shores!
Sun City Riverbend, SC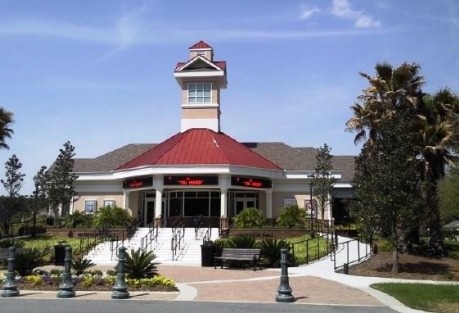 The Pinckney Social Hall anchors the Riverbend Village Center.
> Sun City Riverbend Hilton Head Island, Bluffton SC embraced the tenets of Traditional Neighborhood Design (an often-used synonym for New Urbanism) when it conceived its 45-acre Village Center, an amenity campus at the heart of the community.
Within it is The Town Square, anchored at one end by Pinckney Social Hall, a 17,000-square-foot venue with a ballroom. Lectures, workshops, dances and concerts are regular events and a natural outgrowth of this approach to planning.
The Yemassee Crafts Center building is also located on the square and includes studios for ceramics, arts and crafts, sewing and photography.
Sun City Riverbend residents have access to a full complement of local and visiting culture events at Magnolia Hall—a 16,000-square-foot performing arts center. All the components of this center are first-rate, but it's the overall concept and human-friendly layout that really makes it work.  Send me more information about Sun City Riverbend!
Other links in the top 20 series
Look here to see other posts in our Top 20 Series, which will be added as they are published.
> Top 20 Golf Communities in North America Named by Golf Course Home
> Community Farms Propel These Golf Communities into Our Top 20 List
> Dog Parks at Golf Communities Are for People, Too
> Art Studios, Visiting Artists Inspire the Spirit at Top 20 Golf Communities