> Reynolds Lake Oconee, Greensboro, GA presents its Discovery Package so you can experience all it has to offer yourself.
Stay for up to three nights at The Ritz-Carlton or in one of the community's fully furnished cottages or condominiums.
Cottage packages are $349 per night and hotel packages are $449 per night and includes two rounds of golf on one of the community's  award-winning courses.
Additional activities include a two-hour boat rental on Lake Oconee, breakfast each day and $75 Club Credit which can be used toward dining and merchandise for a 2-night stay.* Send me more information about this Reynolds Lake Oconee Discovery!
Reynolds Lake Oconee Discovery Package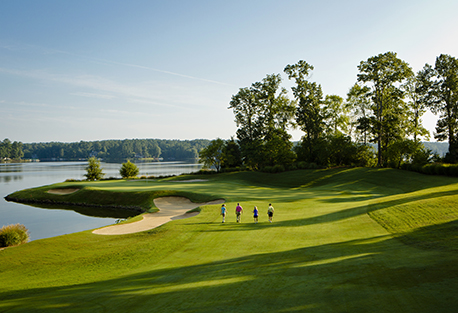 Play beautiful golf courses with lakeside views.
Stay up to 3 nights
Lodging at The Ritz-Carlton or a fully furnished cottage or condominium
Two rounds of golf
Private preview of real estate offerings
Two-hour boat rental on Lake Oconee
Breakfast each day
$75 Club Credit towards dining and merchandise
Cottage packages, $349 per night, hotel packages, $449 per night*
*Excludes holidays and subject to availability **Subject to certain limitations ***Club credit and gift certificates for promotional purposes only
About Reynolds Lake Oconee, GA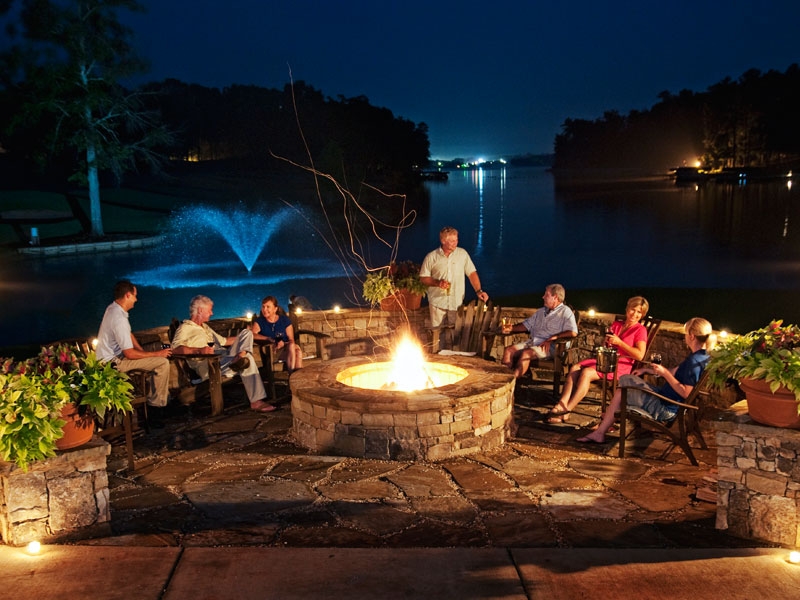 Family fire-pit gatherings are a memorable and popular activity.
Reynolds is a lake and golf community offering 117 holes of championship golf on the shores of Lake Oconee.
Located 75 miles east of Atlanta via Interstate 20, Reynolds Lake Oconee's long list of amenities is headlined by five of the best golf course designers in the business—Jack Nicklaus, Bob Cupp, Tom Fazio, Rees Jones and Jim Engh.
In addition to its beautiful setting along more than 374 miles of Lake Oconee shoreline, the community offers residents and guests four marinas, four clubhouses and 16 tennis courts.
In addition there are miles of walking trails, engaging natural scenery and a Ritz-Carlton Lodge for vacationers and real estate prospects.  Send me more information about this Discovery Package!
Lake & Golf Views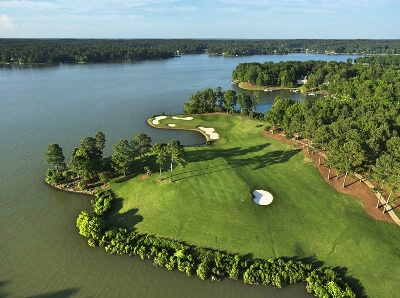 Enjoy spectacular holes and lakefront views.
Most of the homesites and cottages now offered at Reynolds overlook either the lake or one of six championship golf courses. Some even offer a combination of both golf and lake.
Whatever the view, year-round residences and vacation homes here blend in with the natural surroundings and offer easy access to all amenities.
Southern Living Magazine chose Reynolds Plantation as the location home for its renowned Idea House. Send me more information about this Reynolds Lake Oconee Discovery!
Model Homes

Homes enjoy golf front and lake front locations.
On your visit, be sure to take a look at the model homes that overlook the fairway of The Creek Club golf course's eighth hole.
These unique homes exhibit a completely fresh design perspective, with the interior and exterior reflecting contemporary living at Reynolds Lake Oconee, home to one of the most elite collections of golf courses and amenities in the United States. Send me more information about this Reynolds Lake Oconee Discovery!