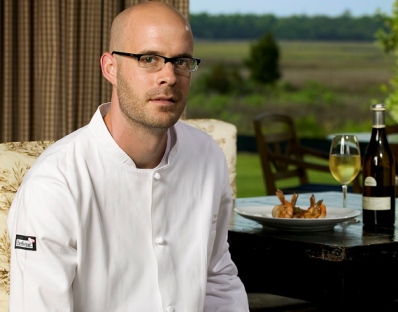 Thanks to its coastal location in Charleston, SC, dining at Daniel Island is a pastime to savor. Known for its nationally-ranked golf courses by Tom Fazio and Rees Jones, the Daniel Island Club gets high marks from its members and their guests for the diverse array of dining options and the dishes that they produce.
___________________________________
Chef Tyler puts a modern spin on Lowcountry
favorites such as  Fried Green Tomatoes
____________________________________
Start with fine dining in front of the fireplace at the clubhouse and casual fare at the Grill Room overlooking Hole 18 of the Ralston Creek course. Then move on to casual offerings at the clubhouse Pub and poolside dining at the Park Club. In all venues, the club's culinary team focuses on bringing local ingredients and Lowcountry cuisine to the table.
Local Abundance
The eating experience at Daniel Island is led by Executive Chef Tyler Dudley who is a Certified Executive Chef and a member of the American Culinary Federation. Previously, he was Sous Chef at Bennett's On Market in Charleston, and at the Cedarwood Country Club, Charlotte, NC.
"Here at the club, our menus are highly influenced by the abundant fish, seafood and produce available locally year-round," says Dudley who has a degree in Culinary Arts from Johnson & Wales University. "To mix things up for members, we like to put a modern spin on Lowcountry favorites like Shrimp & Grits and Fried Green Tomatoes."
As a treat for GolfCourseHome visitors, we provide here Dudley's recipe for Fried Green Tomatoes, a decidedly Southern creation made famous by the book and movie of the same name. Of course, Dudley puts his own personal stamp on the final product, including layers of fresh mozzarella and Tabasco sauce for some kick. The perfect way to start off the new year!

FRIED GREEN TOMATOES – Serves 12
1 cup buttermilk
½ Tablespoon Tabasco sauce
1 cup yellow cornmeal
1 cup all-purpose flour
½ teaspoon baking soda
1 teaspoon kosher salt
1 teaspoon fresh ground pepper
5 lbs. green tomatoes, sliced thick
1 lb. sliced fresh mozzarella
Method of Preparation:
Mix buttermilk and Tabasco together and set aside. Add sliced tomatoes to milk mix and marinate for one hour. Combine next 5 ingredients in a separate container. Drain tomatoes and lightly dredge in mix. Fry.
CHEDDAR GRITS
2- cups whole milk
2 cups chicken stock
1 teaspoons kosher salt
1 cups stone ground grits
¼ cup butter
1 cups heavy cream
½ cups shredded white cheddar
2 teaspoons fresh ground pepper
Method of Preparation:
Bring milk, stock to a slow boil, then stir in salt. Slowly add grits, stirring constantly. When grits begin to thicken reduce heat to low and simmer for 30-40 minutes. Stir occasionally to avoid burning on bottom. Stir in butter, cream and cheese. Simmer for 5 minutes and then stir in pepper. Adjust seasoning as necessary.
BLACK EYED PEA VINAIGRETTE
2 cups cooked black eyed peas
1 red bell pepper brunoise
1 yellow bell pepper brunoise
1 green bell pepper
1 red onion brunoise
2 Tablespoons chopped basil
½ Tablespoon  oregano
1 Tablespoon chopped thyme
1 Tablespoon chopped chives
¼ cup red wine vinegar
¼ cup sherry vinegar
½ cup extra virgin olive oil
kosher salt & fresh ground pepper to taste
Method of Preparation
Combine first 8 together and set aside. Whisk next 4 together (mixture will not emulsify). Combine all ingredients together.
To plate: Alternate fried green tomato slices with fresh mozzarella, finish with black eyed pea vinaigrette.
SHRIMP AND GRITS – Serves 6
1 Tablespoon grape seed oil
2 lbs. large peeled and deveined shrimp
1 ½ lbs. andouille sausage sliced thin on the bias
½ lb. Tasso ham shredded
2 Tablespoons shallot chopped
1 ½ cups chicken stock
Salt & pepper
2 Tablespoons chopped parsley
2 Tablespoons sliced green onion green part only
2 Tablespoons seeded and chopped tomato
Cheddar Grits (recipe follows)
Method of Preparation
Heat grape seed oil in heavy bottom sauté pan over medium heat. Add shrimp and sauté until slightly pink, then remove. In same pan add shredded tasso, andouille and chopped shallot and sauté for two minutes. Deglaze pan with chicken stock and reduce by half. Add shrimp back into pan and cook an additional two minutes. Adjust seasoning.
Divide the hot grits between six bowls and spoon the shrimp and sausage mixture over the grits. Garnish with parsley, green onion and tomato.