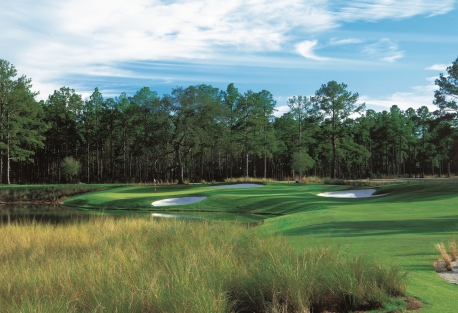 ~ 2019 GCH Annual Index ~
Year-End Double Issue
> Where Buyers Want to Live – The Most-Visited Communities
> The 2019 GCH Community of the Year
> 2019's Most-Wanted Amenities – The Top 10
> The Most Popular Community Types, Lifestyle
> 2019 Top Search Categories
> New Communities to GCH in 2019
Happy New Year!  Welcome to the 2019 GCH Annual Index–an in-depth look at the year's activity on the Golf Course Home Network.
Here we have collected for easy access all of 2019's homes for sale, links to Golf Course Home's Most Visited Communities, key blog posts, top amenities, favorite community locations and lifestyles, and the Community of the Year.
As always, thank you for using Golf Course Home in your search for the ideal retirement residence, second home or primary home! It has been our privilege to serve you another year–our 24th year in operation.–The Editors

Back to Top
2019 GCH Annual Index
The Year's Most-Visited Communities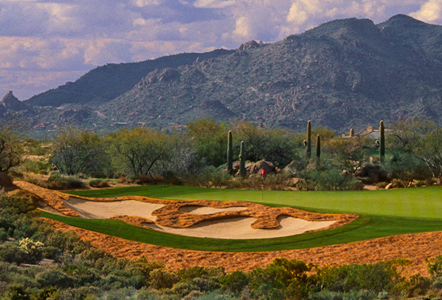 Mirabel, AZ: Arizona had three communities vying for honors.
Florida reasserted itself as the go-to state for buyers in 2019. Ten out of the 17 communities that enjoyed a place amongst the Top 10 Most-Visited Communities during the year hailed from the Sunshine State.
Other contributing states were Arizona (3 communities), Tennessee (2), and South Carolina and Massachusetts one each.
A New No. 1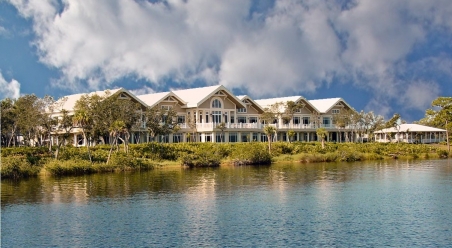 Harbour Ridge, FL: Now No. 2, held the top spot for 4 years.
The fight for 2019's No. 1 spot was the most competitive in five years as a half-dozen communities took turns as the top dog for the month.
Perennial champ Harbour Ridge Yacht & CC and World Golf Village each grabbed two turns at the top spot.
However, World Golf Village's six second-place finishes helped it edge out Harbour Ridge which had held the No. 1 position for the past four years.
Other communities that claimed a first-place ranking for the month were Sun City Riverbend, SC; GlenLakes, FL; WindRiver, TN; and Heritage Landing, FL, a Lennar community new to Golf Course Home this year.
Top 10 Most-Visited Communities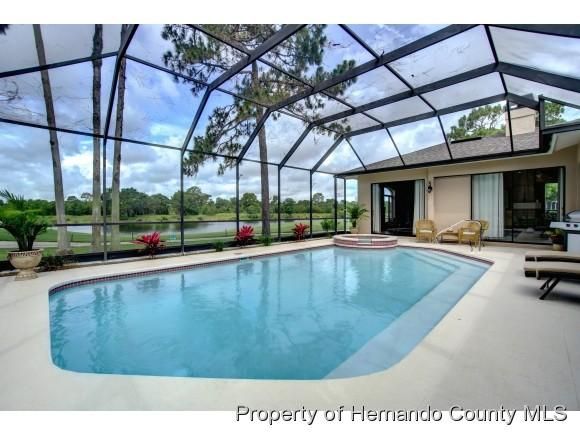 GlenLakes, FL: Florida lifestyle w/ golf views and pool.
1. World Golf Village, St. Augustine, FL
2. Harbour Ridge Yacht & CC, Stuart, FL
3. GlenLakes Golf Club Community, Weeki Wachee, FL
4. WindRiver, Lenoir City, TN
5. Sun City Riverbend, Bluffton, SC
6. Heritage Landing, Punta Gorda, FL
7. Woodlake Golf, Lodge & CC, Tazewell, TN
8. The Club at Quail Ridge, Boynton Beach, FL
9.  Mirabel, Scottsdale, AZ
10. Desert Mountain, Scottsdale, AZ
2019 COMMUNITY OF THE YEAR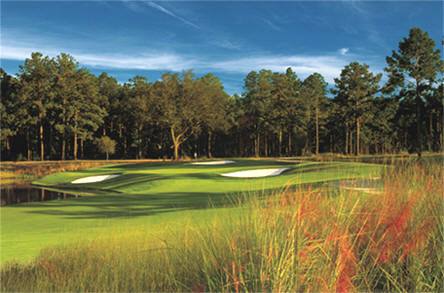 World Golf Village, FL:  Most Visited Community in 2019.

After four year's of dominance by Harbour Ridge Yacht & CC, there is a new Golf Course Home Community of the Year–World Golf Village® in St. Augustine, FL.
The home of famed golf courses the King & Bear and the Slammer & Squire, World Golf Village also offers a world-famous spa and the World Golf Hall of Fame.
Overall, the 6,300-acre, World Golf Village is a masterfully planned complex that has firmly established itself as the home of American golf. Send me more information about World Golf Village

Back to Top
2019's Most wanted AMENITIES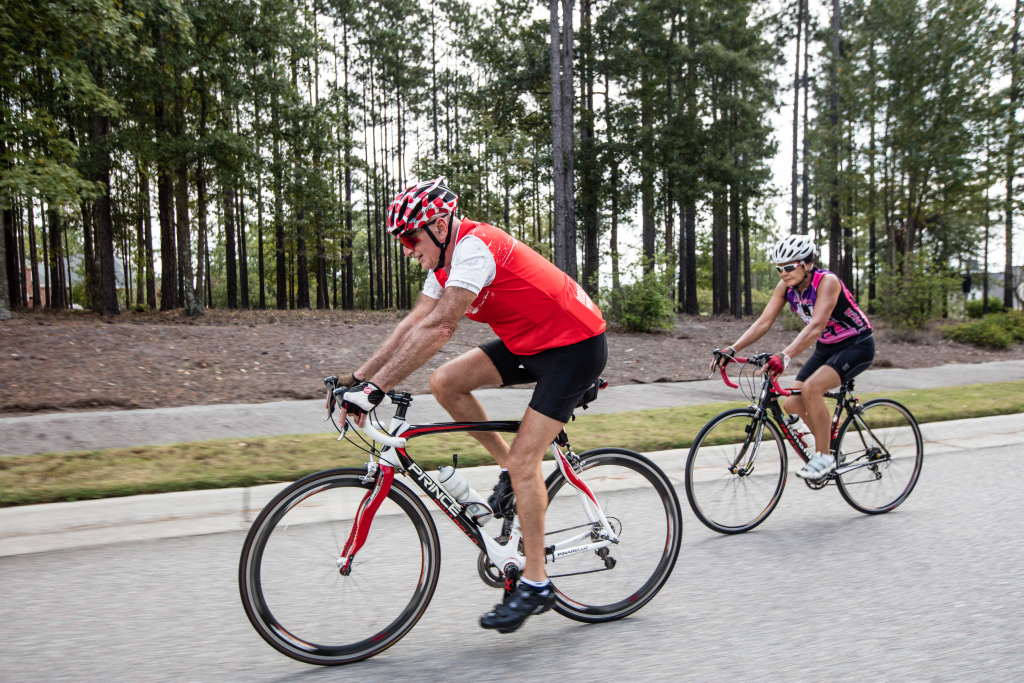 Woodside, SC: Offers popular amenities biking, tennis, pool & more.

Today's communities are smartly adding amenities that can appeal to the wide and varied interests of buyers. Retirement does not mean retired from activity. Far from it.
This year's ranking of the most popular amenities saw big jumps for the most active pursuits. Tennis went from unranked to No. 8 on the list. Fitness centers catapulted up from no ranking to No. 5. And biking/biking trails pushed into the No. 2 spot.
Security also made a major move into the Top 10 of the most desired amenities for 2019. Gated entrances jumped up four places to No. 4., and, 24-hour security services made a new appearance in the Top 10, taking the No. 6 position.
Top 10 Amenities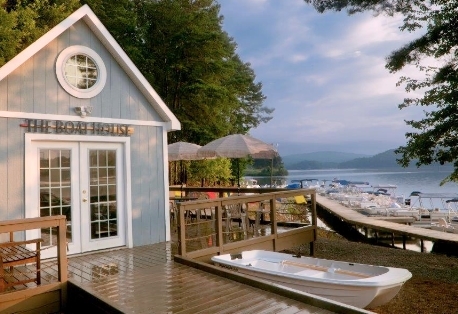 Lake Arrowhead, GA: Marinas are a top amenity choice.
Links go to a list featuring all communities with the stated amenity.
2019 Top 5 Lifestyle Locations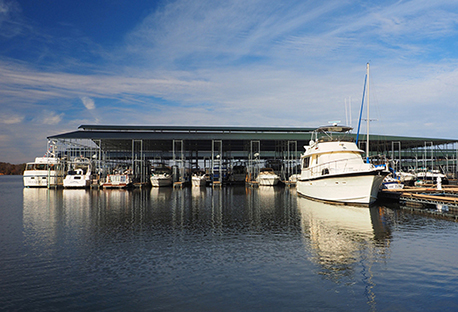 WindRiver, TN: Lakeside living was a big 2019 draw.
Location and a community's focus help define the lifestyle you will enjoy at your new community. Indian River Colony Club, Melbourne-Viera, FL, presents a large welcome mat for the military, Teton Springs Resort, Victor, Idaho, is a magnet for skiers and Treasure Lake, DuBois, PA, has not one, but two lakes to enjoy.
For 2019 oceanfront living, as in past years, remains No. 1. Moving up several spots to the No. 2 ranking was lakeside living, which you can find at Top 10 communities WindRiver and Woodlake, both located in Tennessee.
2019 Top 5 Location/Lifestyle
Links go to a list of all communities featuring the stated lifestyle
2019 Top 10 Most Searched-for States
TOP 20 GOLF COMMUNITIES IN NORTH AMERICA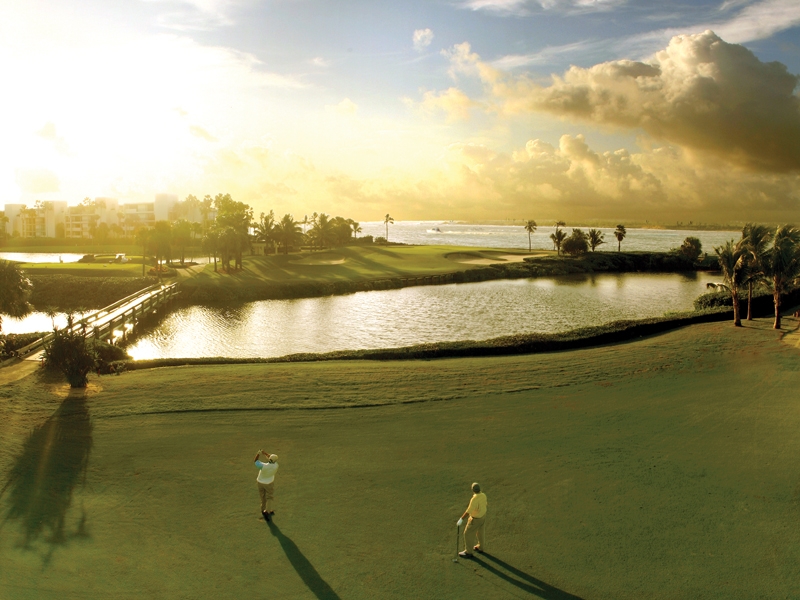 Sailfish Point, FL: – A Top 20 community for golf & charitable giving.
Watch for our next compilation of our biennial ranking of the Top 20 Golf Communities in North America., coming out in 2020. The special twist to this ranking list lies in its focus on activities other than golf.
With great golf as a given, we focus on communities that help fan resident passions ranging from art studios and community farms/gardens to charitable giving groups to innovative activities for the casual golfer and more. While you wait for the new rankings, check out the most recent list here.
2019 Top Search Categories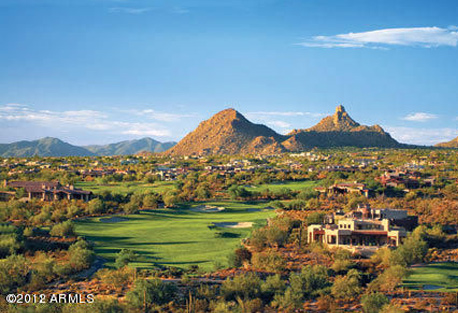 Desert Mountain, AZ: Top 7 Reasons to Retire to Arizona.
Here are some of the most searched-for categories featuring all the posts related to the search phrase.
New Communities in 2019
Seven communities joined Golf Course Home in 2019, representing Florida, Georgia and North Carolina. See a brief description and links below.
Florida
Babcock National, Punta Gorda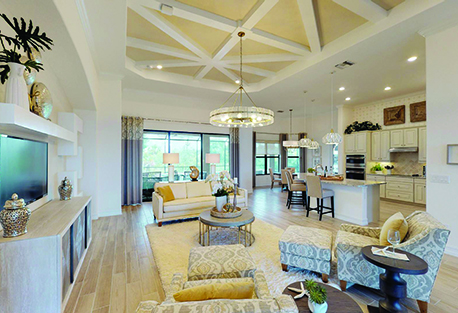 Babcock National, FL: Elegant Florida living by Lennar.
Babcock National is a brand new golf community located within Babcock Ranch, famed as the nation's first solar-powered town. When complete, the community will feature homes by Lennar and  an 18-hole, championship layout by Gordon Lewis, clubhouse, tennis center, swimming pool and fitness center.
Homes begin in the upper-$100,000s. Send me more information about Babcock National!
Grand Haven, Palm Coast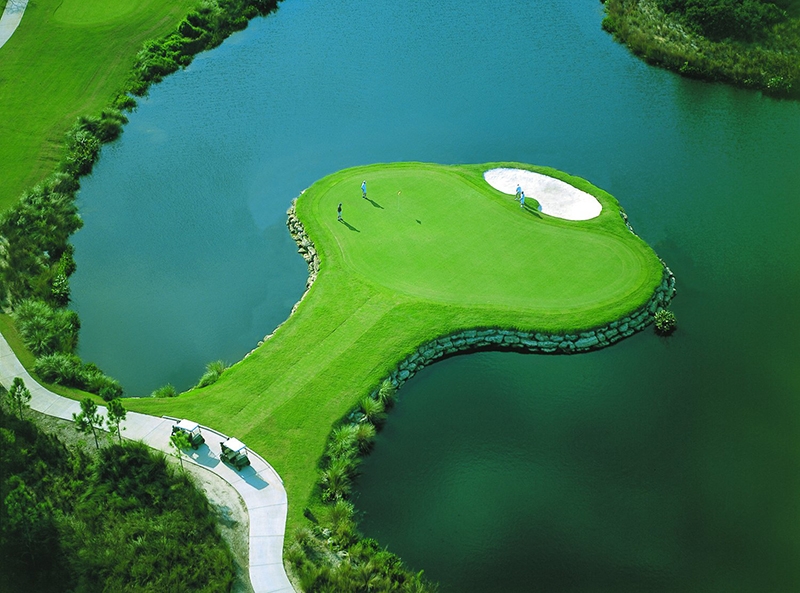 Grand Haven, FL: Challenging golf on the Palm Coast.
Grand Haven is one of the Palm Coast's premier gated, club communities. Featuring 1,400 acres, the community is known for having one of the most breathtaking settings on the Intracoastal Waterway.
Amenities include a Jack Nicklaus Signature Golf Course, Village Center, Atheltic Center, Clubhouse and more. Real estate from $80,000. Send me more information about Grand Haven!
Heritage Landing, Punta Gorda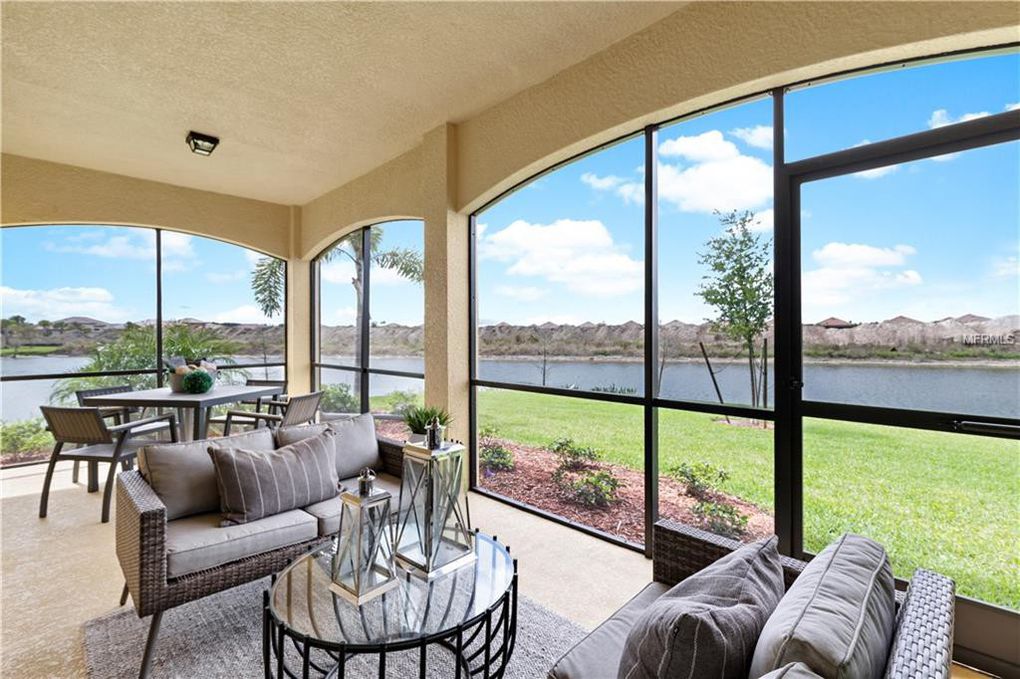 Heritage Landing, F: Features homes by Lennar.
Heritage Landing is a vibrant new golf and country club community by Lennar taking shape on Florida's Gulf Coast, just five miles south of US 41.
Resort-style amenities are headed by an 18-hole golf course designed by Gordon Lewis. Other amenities include clubhouse, resort-style pool complex, state-of the-art fitness center with sauna and  tennis center. Real estate from $169,999. Send me more information about Heritage Landing!
Mariner Sands, Stuart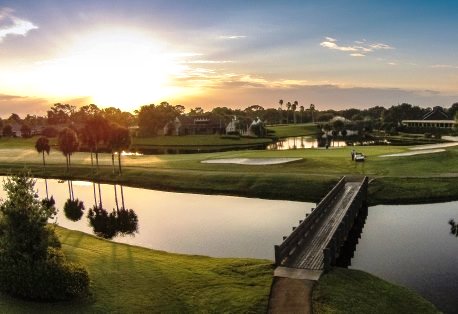 Mariner Sands, FL: Gated community on Treasure Coast.
Mariner Sands Country Club is a private, 24-hour, gated country club on Florida's Treasure Coast. The community offers an active, social and fun lifestyle with friendly residents, gorgeous homes and lush, tropical landscaping.
Mariner Sands' world-class amenities include clubhouse, 36 holes of golf, tennis, pickleball, bocce, state-of-the-art fitness center and spa. Send me more information about Mariner Sands!
Marsh Creek Country Club, St. Augustine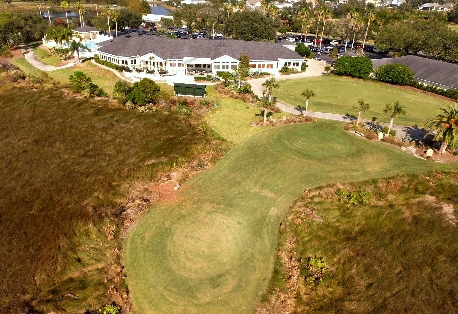 Marsh Creek CC, FL: Golf, tennis & fitness on a barrier island.
Marsh Creek Country Club is a private, country club located on a barrier island between the Atlantic Ocean and the Intracoastal Waterway. Just 45 minutes south of Jacksonville, it is cooled by the ocean breezes in the summer and kept temperate by the surrounding bodies of water throughout the winter season.
Residents enjoy golf, tennis and all the club's varied activities year round. Real estate from $148,500. Send me more information about Marsh Creek!
Georgia
Lake Arrowhead, Waleska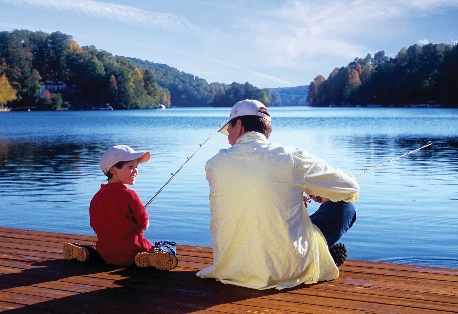 Lake Arrowhead, GA: Golf & lake community in the Blue Ridge.
Lake Arrowhead is a golf and lake community tucked away in the Blue Ridge foothills just 30 minutes north of Atlanta.
A crystal-clear 540-acre lake surrounded by mountains, pristine wilderness and trails is the focal point of the community which features a classic 18-hole golf course and extensive boating facilities. Real estate from $55,000. Send me more information about Lake Arrowhead!
North Carolina
Connestee Falls, Brevard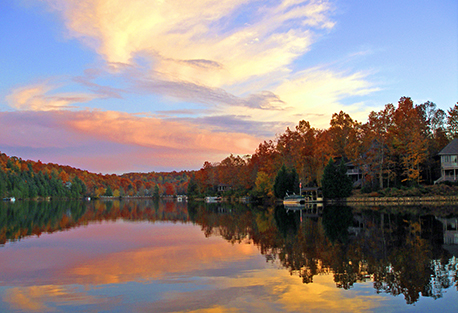 Connestee Falls, NC: Lake & mountain living in a college town.
Connestee Falls is is a semi-private, mountain golf and lake community set in the western North Carolina college town of Brevard.
A long amenity list that includes golf, signature waterfalls, four mountain stocked lakes and a grand clubhouse with dining. The outdoor life here features 14 miles of private hiking trails, plus a large heated pool, tennis/pickleball centers, wellness center and more than 60 active clubs. Real estate from $250,000. Send me more information about Connestee Falls!